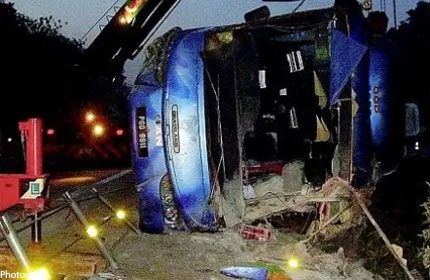 UPDATE: Muar traffic police told The Straits Times that Mr Zainal had lost control of his vehicle, perhaps out of drowsiness. He is not expected to face any charges.

Get the full story from The Straits Times.
---
A bus carrying 10 Singaporean tourists overturned and skidded some 15 metres along Malaysia's North-South Highway.
The incident happened at about 2am on Wednesday morning.
According to Utasan Online, all tourists survived the accident but about eight Singaporeans suffered injuries. They were taken to nearby Sultanah Fatimah Specialist Hospital in Muar by two ambulances.
The Malay daily reported that bus driver Zainal Abidin and substitute driver Mohd Rusdi Ahmad, both Malaysians, received outpatient treatment for their injuries.
The bus that departed Beach Road, Singapore, at 10 pm on Tuesday and was en route to Penang. It was schedulted to arrive at 10 am on Wednesday.