Humanity has no borders, and that was shown by a group of warm-hearted Chinese nationals living in Malaysia who donated personal protective gear to frontliners dealing with Covid-19 cases.
The volunteer group was initiated (on Mar 18) by Shanghai natives Li Jinlei and Bao Jin, who were joined by Beijing native Grace Wang Hongli (on Mar 20) as they swiftly gathered members from various WeChat groups to join their fundraising campaign to procure the necessary supplies.
It took the group of more than 300 individuals just four days to pool their resources and collect funds totalling RMB50,000 (S$10,000) via WeChat Pay and Alipay.
The funds were used to purchase face masks, face shields and personal protective equipment (PPE) suits, all of which they sourced directly from manufacturers in China.
The group will be donating the protective gear to two hospitals in the Klang Valley, namely Hospital Putrajaya and Hospital Kuala Lumpur (HKL).
Both hospitals have been gazetted as screening hospitals, while HKL is also an admitting hospital as it is sufficiently equipped with adequate isolation facilities as well as medical personnel trained to deal with Covid-19 cases. Hence, the supplies donated also reflect the needs of each hospital.
Li, who started the fundraiser, said: "The first hospital we contacted was Hospital Putrajaya. We donated 6,000 surgical masks, 10 sets of PPE suits, and 10 face shields. The second was Hospital Kuala Lumpur. They received 330 sets of PPE suits.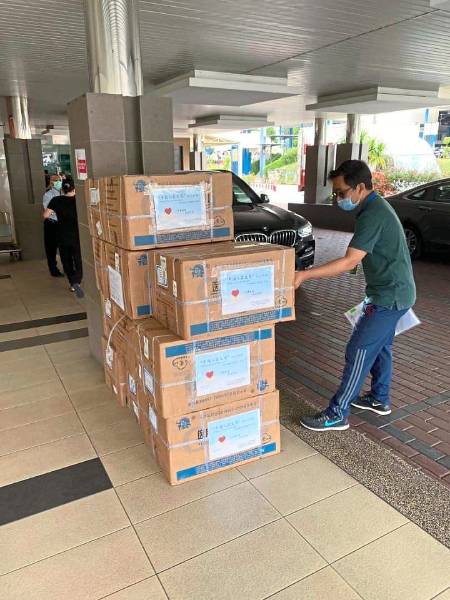 "When the Malaysian government announced its movement control order (MCO), we were observing whether the hospitals' medical supplies were adequate. Later, we read news reports and noticed that the protective measures of medical staff here were somewhat basic, and we also received a lot of information from doctors asking for help, saying that there was a shortage of medical supplies, " said Li.
Being doting mothers who have been living in Malaysia for several years to accompany their children who are attending school here, the ladies are also in the process of extending their help to a local orphanage by sending them masks as well.
"As mothers who worry about our kids all the time, we can't help but be concerned about the fate of these poor children who have no parents to care for them, " Wang said, adding that Li's husband bought surgical masks from China and posted them to Malaysia to be delivered to the children.
Wang said they chose to stay in Malaysia because of their love for the country. "Life here is very relaxed, and the people are friendly. We love the weather and the food is delicious, that's why we all like it here in Malaysia."
But with the outbreak of the pandemic, Wang said they "hope that everyone can rally together and join forces to keep the disease at bay".
"Since early on, we've been keeping track of news about doctors in China, so when we saw the doctors' equipment in Malaysia, we felt the need to get better protection for them. Because only when doctors and nurses are properly protected, then only can Malaysia be better protected.
"Hopefully, this pandemic will pass as soon as possible. Working together, we are hopeful that Malaysia's doctors and nurses will remain safe and well. And that Malaysia will also get better," said Wang.
For the latest updates on the coronavirus, visit here.