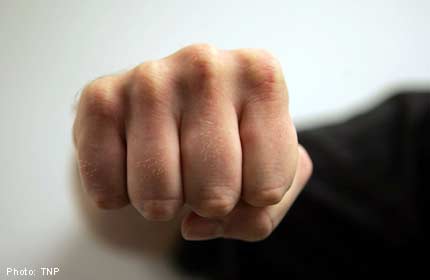 JOHOR BARU - Two policemen who tried to stop a fight in a pub were set upon by a group of 20 rowdy men who even robbed one of them of his valuables and cash.
One of the policemen was hospitalised for his injuries. His colleague was given outpatient treatment following the 2am incident in Jalan Susur several days ago.
It is learnt that police have so far rounded up several suspects in a series of raids.
Sources said the two Johor constables were meeting up with some fellow policemen from Kuala Lumpur who had come to invite them for a wedding.
A fight erupted in the pub shortly after that and the two Johor policemen decided to calm down the situation.
Both of them even introduced themselves as policemen.
However, the situation took a turn for the worse when the two fighting factions decided to turn on the two policemen and started attacking them.
"They hit one of the policeman with wood and even robbed him of his cash and jewellery before escaping when the three friends called for back up," a source said.
The two policemen were then sent to the Sultanah Aminah Hospital for treatment.
Johor Baru South OCPD Asst Comm Zainuddin Yaacob, when contacted, said that police had picked up several people in connection with the case and investigation was still on-going.
In an unrelated case, police have arrested a 31-year-old jobless man in connection with the murder of farm chief clerk Unni Nesir Ali, 41, in Chaah, Labis on Sept 26.
A farm foreman found the victim, with multiple slash wounds, lying dead by his motorcycle about 100m away from the farm's main road at 6.40am that day.