Just two years ago, Irfan Wafiy Idham Wazir was doing cartwheels, scaling rock-climbing walls and playing football around his neighbourhood in Johor, Malaysia.
Today, the 13-year-old hobbles around with a stick, unable to walk or stand for long periods. His legs shake uncontrollably and he feels tiny shocks of pain in his feet, in a condition called myokymia.
At Irfan's boarding school, he does his daily prayers on a chair instead of a prayer mat, struggles up the stairs and spends most of his time studying science, his favourite subject. When the pain gets too much, he tells himself to ignore it.
Irfan counts himself as one of the lucky ones. At least his condition does not affect his brain or breathing.
The teenager is among 5,000 residents who fell ill after being exposed to toxic gases thought to have been caused when P Tech Resources, a firm that burns used tyres, illegally dumped 20 to 40 tonnes of chemical waste into the Sungai Kim Kim river on March 7 last year.
All 111 schools in Pasir Gudang, in the south of Malaysia, were closed as a result and hundreds of people were admitted to intensive care for symptoms including breathlessness, nausea and headaches.
Irfan's father, Idham Wazir A. Wahab, 50, remembers the day the school called him to say that his son had collapsed. It was "pure havoc", said Idham, recalling the constant din of ambulance sirens, parents rushing to schools and the chaos at the hospital on March 13 last year.
The family of seven, who have lived in Pasir Gudang since 2000, said it was the first time a crisis of this sort had happened in their town.
Idham said the family had first smelt an odour like "burnt rubber" on March 7, but the government "did not take quick action to clean the toxic waste" until the second wave which hit one week later.
After Irfan was diagnosed, Idham quit his job as a ship repairman and engineer to take his son to the best specialists in Kuala Lumpur, in the hopes of improving his condition. He also tried alternative treatments like acupuncture. Idham, who has spent more than 10,000 ringgit (S$3,300) in medical bills, said the family now had a "phobia" of the Sungai Kim Kim river. "We don't want to go anywhere near there."
Most families in the area have told their kids to stay indoors.
"There are no more children playing on the streets or at the playgrounds," Idham said.
'There is no life'
Like a cancer festering in their backyard, Pasir Gudang residents have endured various foul stenches emanating from the river for years.
The area is home to some 2,000 monolithic, sprawling industrial factories, with about 250 of them being chemical factories, despite the fact that new homes and commercial centres are sprouting up nearby.
Satellite data shows that Pasir Gudang has about 50 potential illegal dumping locations. There are many other industrial zones around Malaysia that have also been described as ticking time bombs.
It was not always like this, according to Vincent Chow, 73, the vice-president of the Malaysian Nature Society.
Just 10 years ago, the Sungai Kim Kim river was clear and teeming with fish. But as the more industrial factories and housing areas sprang up in the area, the water became degraded.
Now, the middle and lower sections had turned still, black and "death is everywhere", Chow said. "No one wants to fish. There is no life. It's a no-man's land."
Chow, a registered ecologist, said he had observed some troubling biological indicators in the mangroves near the river.
The mud crabs and mud lobsters that used to live in the mangroves had taken refuge further inland, he said. Migratory and indigenous birds hardly stop by any more, amid a declining shellfish population and dwindling food sources.
"If you construct a food web, you will find a lot of missing linkages," Chow said. "When mudskippers and mud crabs are missing, it means there's something very wrong with the algae they feed on."
As the chemicals reacted over the years, the river had become a "teeming stockpile of contamination and pollutants", he said.
This is potentially deadly if they turn into gas, especially during hot weather and low tide.
"The moment you hit Pasir Gudang, the air quality changes immediately. A strong hint of the presence of gas hits you until the wind blows it away," Chow said.
Fishermen have over the years also complained of depleting fish stocks. Azli Mohd Aziz, 56, president of the South Johor Fishermen Association, said no one had fished in the Sungai Kim Kim river for the past five years because it had become too polluted.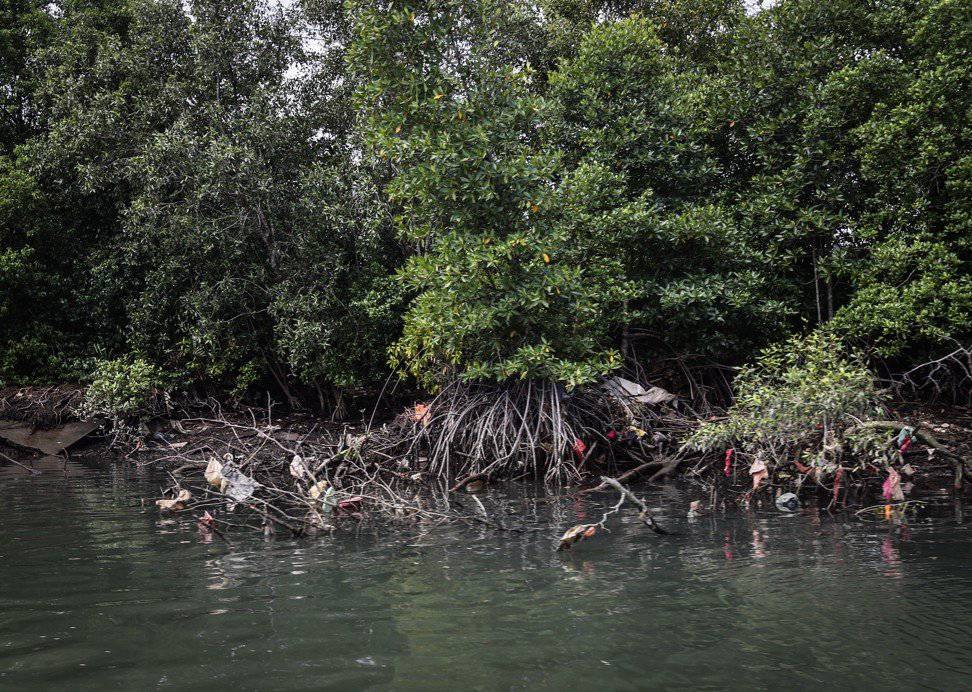 What was left was just "trash fish", fish that would normally be used for animal feed.
After last year's toxic waste scandal, local fishermen saw their incomes plunge by 70 per cent, from 100 ringgit a day to 30 ringgit. People also became afraid and stopped buying fish.
Benzene was among the chemical compounds identified in the toxic waste found in the river, along with methane, hydrogen chloride, acrylonitrile, acrolein, toluene, xylene and limonene, according to reports.
More worryingly, doctors say symptoms arising from exposure to such deadly chemicals may show up only decades later, which may potentially lead to leukaemia, cancer and organ damage.
According to some residents, illegal dumping continues to take place under cover of darkness.
Chow suspects that some companies are paying off residents to look the other way or to help them with illicit dumping, and that a syndicate may be involved.
A mother's helplessness
The effects of the pollution are just starting to surface in Saloma Bte Hassan's children.
The mother of five lives in the Taman Pasir Putih neighbourhood just next to the river, and her children attend SMK Taman Pasir Putih, about half a kilometre away from where the waste was dumped.
Soon after midnight on March 7 last year, Saloma, 41, was awoken by a strong smell coming from the outside, "like the gas was broken". It made her head hurt and she felt like throwing up.
After the incident, they thought the worst had blown over.
But five months later, her 12-year-old daughter's hands and feet began to tremble occasionally and she complained that it was painful to walk.
Once cheerful and one of the top pupils in her class, Nur Adani has now become withdrawn.
Her grades dropped after she stopped going to school for five months, and she asked if she could be transferred to another school to avoid the judgment and stares from the other children.
"When other kids play outside, she doesn't want to join them. She just stays in her room. She even didn't want to let her siblings into her room, but I told her, 'No, you must be together," Saloma said.
Her youngest child, a two-year-old boy, also gets fevers almost every month and has difficulty walking.
It soon became unsustainable for Saloma to go on emergency leave while working - she would commute to Singapore three times a week - so she quit her job last May as a senior executive handling shipping and logistics at a multinational company.
Every month, she forks out about 450 ringgit in medical bills for, among other things, hospitalisation, specialist consultation and therapy.
Until today, doctors have been unable to diagnose Adani's condition and she is thinking of sending her daughter to Singapore.
Saloma feels helpless.
"Of course, we are afraid of living in this neighbourhood. But what to do? We can't sell our house," she said. "We're suffering. As a mother, I'm so sad when I see her shaking and start to cry. Can you imagine, 11 years old and so sad?"
Calls for help
Many residents have been critical about how the authorities handled the incident. They claim it took too long for the river to be cleaned up, and that there has been little word since on any long-term assistance plans.
Idham is part of a group rallying for the Malaysian authorities to do more.
Called the Sungai Kim Kim Toxic Victims and Pasir Gudang Pollution Action Committee, they filed a lawsuit last July at the Johor Bahru High Court against 11 defendants, including the state government.
The lawsuit represents 160 people, including 34 student victims and 120 fishermen from Pasir Gudang whose livelihoods were affected by the pollution.
They are asking for 5 million ringgit in compensation for general damages suffered by Irfan, while many victims are asking to receive compensation of between 4,000 and 5,000 ringgit each.
Meanwhile, housewife Liza Rahman, 37, joined as the secretary of the newly set up NGO Persatuan Kebajikan Rakyat Prihatin Pasir Gudang, registered in August last year.
She felt compelled to act after seeing how her children were affected. Her nine-year-old son has been suffering more frequent asthma attacks since the incident.
Together with 30 other parents and residents, Liza aims to create an educational programme for schools and the public about what to do when such incidents strike and how people can protect themselves.
"Not many people have the knowledge of what to do in a situation like a chemical spill. All they do is sit at home and close the windows and they think it will be fine," she said, adding that they hoped to teach people the correct way to wear masks, check their heart rates and other symptoms, and how to evacuate their homes.
But it had been difficult to get funding from the authorities, she said.
Chow said that after years of neglect and "almost zero" enforcement, it was time for more action, including long-term environmental studies, a review of the situation to find out the reach of contamination and the river's marine life population, and a dialogue about the state of the Sungai Kim Kim.
"It's only the moment when people start to faint that the government starts to take notice," he said.
Chow suggested a "river rangers project", where volunteers, villagers and university students are trained to look out for key biological indicators, conduct water quality and gas detection tests, and report suspicious sightings such as lorries coming with large loads of drums and other containers.
To manage the river effectively, he said the entire river should be continually assessed with the involvement of relevant government departments, Pasir Gudang's corporate sector, villagers, NGOs and the state government, in order to obtain a clear picture of the river system.
Chow also called for the Sungai Kim Kim river to be completely desludged, and for the central government to draw up a long-term policy that banned human activities upstream, including imposing no-squatter zones, so that the river's ecosystem could slowly be restored.
Yeo Bee Yin, Malaysia's former environment minister, previously said Malaysia had "very lax environmental laws" and "low punishment for breaches", but that the ministry had stepped up enforcement recently.
In February this year, Pasir Gudang became the country's first industrial city to be equipped with a monitoring system that can detect air quality and hazardous airborne pollutants to provide early warning in the event of any contamination.
Still, Chow said it was only a matter of time before the next "big one" hit.
"Now, all is peaceful and quiet. But we have a very poor memory. We forget easily," he said. "But for those living here, we are living through a long nightmare … and the spectre of cancer is forever on the minds of the residents."
This article was first published in South China Morning Post.