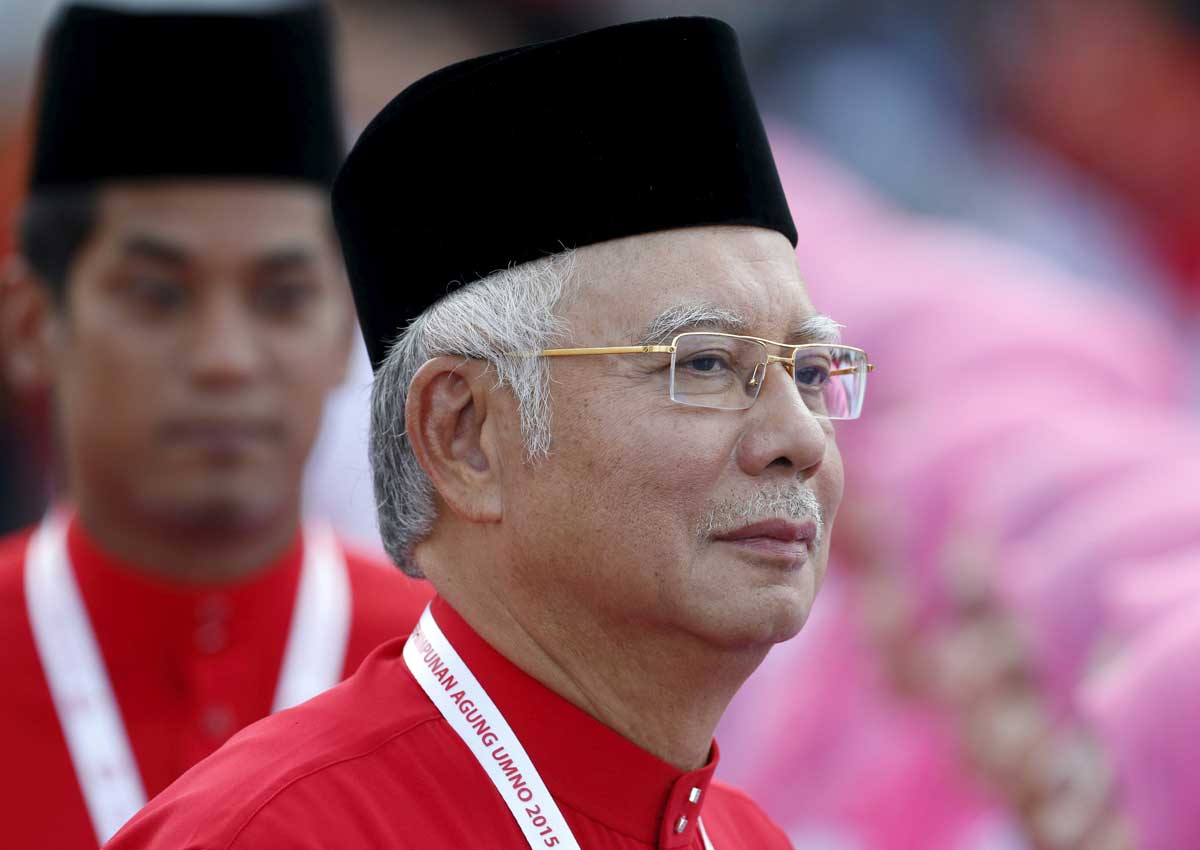 Any attempt to oust Prime Minister Najib Razak will likely fizzle out now that the Attorney-General has cleared Datuk Seri Najib of any wrongdoing involving US$681 million (S$974 million) donated by the Saudi royal family.
As for Mr Najib's call for the people "to unite and move on", some convincing will be needed for Malaysians to accept that their PM's hands are indeed clean.
With 1Malaysia Development Berhad (1MDB) - the state investor whose advisory board Mr Najib chairs - swiftly cutting deals to shrink its RM42 billion (S$14 billion) debt pile, Mr Najib appears to have closed this chapter with time to spare before gearing up for what is likely to be a bruising general election in 2018.
Even before Attorney-General Apandi Ali's statement yesterday that no charge will be brought against him, the Prime Minister has been moving to entrench his position in his party Umno.
Ongoing efforts to remove Datuk Seri Mukhriz Mahathir - the son of former prime minister Mahathir Mohamad - as Kedah's Menteri Besar, reflect Mr Najib's confidence even in tackling the still-influential Tun Dr Mahathir, his harshest critic.
"With the Attorney-General declining to press further on the money transfer, those trying to topple him will now have no excuse," Mr Oh Ei Sun, a senior fellow at the S. Rajaratnam School of International Studies, told The Straits Times.
But there are doubts that the public will quickly forget last year's damaging allegations of a financial scandal, which coincided with shrinking government spending and the weakening ringgit due to free-falling oil prices.
A survey by respected pollster Merdeka Centre late last year found that only 23 per cent of Malaysians were happy with the Prime Minister, and even among the Malay majority - Umno's traditional vote bank - support had fallen to 31 per cent.
"In terms of public perception, this is a no-win situation for Najib," said policy think-tank Ideas' chief Wan Saiful Wan Jan after the A-G cleared the PM of criminal wrong- doing regarding the US$681 million.
Opposition stalwart Lim Kit Siang outlined the misgivings over the decision when suggesting that Tan Sri Apandi should have recused himself from dealing with the case.
"It is open history that Apandi was appointed by Najib in the most extraordinary of circumstances, when the former attorney-general, Tan Sri Gani Patail, was suddenly and shockingly sacked on July 28 purportedly on 'health' reasons... three months before his compulsory retirement. It has been speculated in the public domain that the reason for Gani's sacking was because the Attorney- General's Chambers under Gani was preparing to charge the Prime Minister for corruption," he said in a statement yesterday.
"In fact, many people would say they never expected the A-G to make a decision any other way," Mr Wan Saiful said.
Questions are already being raised over Mr Apandi's version of events, especially with regard to the notion that Mr Najib, who is also Finance Minister, was ignorant of the fact that RM42 million from Finance Ministry-owned SRC International had been deposited in his personal accounts beginning in 2014, as confirmed by the A-G.
"The Prime Minister claims to have returned the Saudi donation in 2013 but the SRC deposits only came in the next year," staunch 1MDB critic Tony Pua told The Straits Times.
The opposition lawmaker added that "if Najib is confused about these countless millions in his private accounts, then perhaps there are other donations he might want to tell us about".
How 1MDB saga unfolded
July 3, 2015: News reports surface that nearly US$700 million (S$1 billion) linked to 1MDB, struggling under the weight of RM42 billion (S$14 billion) in debt, was deposited into Prime Minister Najib Razak's personal accounts.
July 28: Attorney-General Abdul Gani Patail, who heads a probe into the alleged 1MDB- linked money, is removed from his post because of "ill health". Datuk Seri Najib fires his deputy Muhyiddin Yassin and four other ministers who were critical of the government's handling of the 1MDB saga.
Aug 3: The Malaysian Anti- Corruption Commission (MACC) says US$681 million in Mr Najib's accounts came from unspecified donors.
Aug 5: MACC confirms for the first time that the money was a donation and the donors were from the Middle East.
Oct 17: The opposition files a no-confidence motion, accusing Mr Najib of abusing his power to block criminal charges over financial scandals.
November/December: 1MDB sells its entire energy division and a controlling stake in a prime development on the outskirts of Kuala Lumpur, after which its debt - which critics say was raised to cover up billions of ringgit in missing funds - would be negligible.
Jan 26, 2016: Attorney-General Apandi Ali clears Mr Najib of any criminal wrongdoing regarding the US$681 million.
shannont@sph.con.sg

This article was first published on January 27, 2016.
Get a copy of The Straits Times or go to straitstimes.com for more stories.