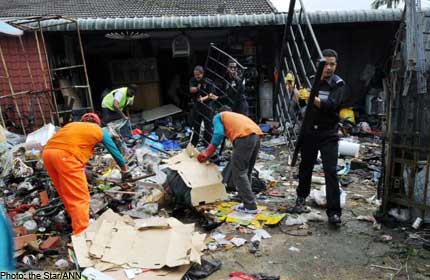 JOHOR BARU - A three-year tug-of-war between the Johor Baru Central Municipal Council (MPJBT) and a 53-year-old hoarder has finally come to an end.
The war was not only between the two, but also involved irritated neighbours in Jalan Perak 3, Taman Sri Skudai here, who could not stand the foul odour coming from Lee Law Oh's house.
For the past 10 years, they have had to bear with the stench emitting from the single-storey house, which was turned into a dumping ground.
The house is filled almost to the brim with old, used and discarded items such as motorcycles, furniture, mattresses, clothes, corrugated carton boxes, newspapers, magazines, iron rods and PVC pipes.
MPJBT enforcement officers led by Azrullail Masijan were seen clearing heaps of rubbish in front of Lee's house yesterday.
"We offered to help him clear the rubbish and unwanted items but he declined. So, we had no choice but to force-clean the house after receiving complaints from annoyed neighbours," said Azrullail.
Lee refused to allow in the MPJBT officers, forcing them to break open the lock on the front gate.
He was visibly upset when the officers started clearing the unwanted items, but that did not stop him from salvaging as many items as he could, putting them into his lorry parked outside the house.
Lee said the items were still usable and MPJBT's action would not stop him from collecting discarded and unwanted items because they could be sold.
A neighbour who only wanted to be known as Jah, living just five doors from Lee, said the hoarder had been collecting rubbish and discarded items since he moved into the neighbourhood in 2003.
"Initially, he sold bread but later started collecting unwanted items found along the roadside," she said.