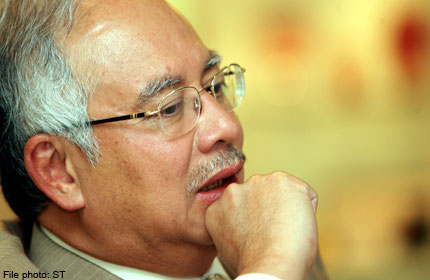 The Government executive jets are not only utilised by the Prime Minister, but also other national VVIPs, says Minister in the Prime Minister's Department Datuk Seri Shahidan Kassim.
He said it was untrue that the jets are used by Datuk Seri Najib Tun Razak alone, adding that they are also used by the Yang di-Pertuan Agong, his deputy and the Deputy Prime Minister.
Shahidan was responding to criticism by Opposition MPs on why Najib does not use commercial flights such as Malaysia Airlines (MAS) like his Singaporean counterpart.
Shahidan said there are six government executive jets in all.
Azmin Ali (PKR-Gombak) asked whether the Prime Minister's wife was entitled to use the executive jet for her travels, including to Doha recently to attend the Qatar Inter­national Businesswomen Forum.
Shahidan said the Cabinet had agreed to it (for the Prime Minister's wife to use the executive jet) because the visit to Qatar is an important one.
However, Azmin demanded to know if the Prime Minister had left the government room when the Cabinet members made the decision to approve his wife's use of the executive jet.
Shahidan insisted that the Cabinet had been informed and the members had agreed to the move.
Earlier, Opposition leader Datuk Seri Anwar Ibrahim (PKR - Permatang Pauh) had questioned Najib for keeping silent over allegations from US whistleblower Edward Snowden that the United States government had been tapping into telephone conversations and monitored electronic communications via a station in its embassy in Kuala Lumpur.
"Malaysia has been slow in responding to this, unlike other countries which have protested vigorously against the alleged spying," Anwar said, adding that Malaysia had merely sent a protest note from the Foreign Ministry to the US embassy.
Anwar also blamed A-G Tan Sri Abdul Gani Patail for the loss of Pulau Batu Puteh to Singapore after the dispute was brought to the International Court of Justice.
He added that Malaysia lost after Singapore showed a picture bearing the wrong location of the island.
"Despite this, he (Abdul Gani) was never taken to task or questioned about it," he said of the 2008 dispute which was won in favour of Singapore.