KUALA LUMPUR - The falling lift incident at a People's Housing Project (PPR) flats in Kampung Kerinchi, Pantai Dalam here, was a freak accident that should not have happened, says Federal Territories Minister Khalid Abdul Samad.
He said fail-safe protections should have kicked in when the lift started to fall from the fifth floor.
Khalid said the Department of Occupational Safety and Health (DOSH) will be investigating the incident and the lift manufacturers from South Korea too will be here to conduct a forensic probe.
On Friday, eight people were injured when a lift fell from the fifth floor of Block C of PPR Kerinchi.
Four of the injured, including a 10-year-old boy, suffered broken legs while the rest had injuries to their ankles.
Yesterday, speaking to the media after visiting victims at the low-cost housing flats, Khalid said the lift had undergone up-to-date maintenance by Kuala Lumpur City Hall (DBKL) and has a lifting equipment certificate (Sijil Permit Mesin Angkat) by DOSH that is valid until January 2020.
He expected the report on the incident to be completed in two weeks.
"There will also be an audit of the other lifts in all PPRs managed by DBKL to prevent a recurrence, " he said.
Asked if there had been similar incidents at PPR Kerinchi, Khalid said: "At this time I can't verify but according to some of the residents, there had been minor ones but nothing as serious as this."
He said the victims' hospital bills will be borne by DBKL.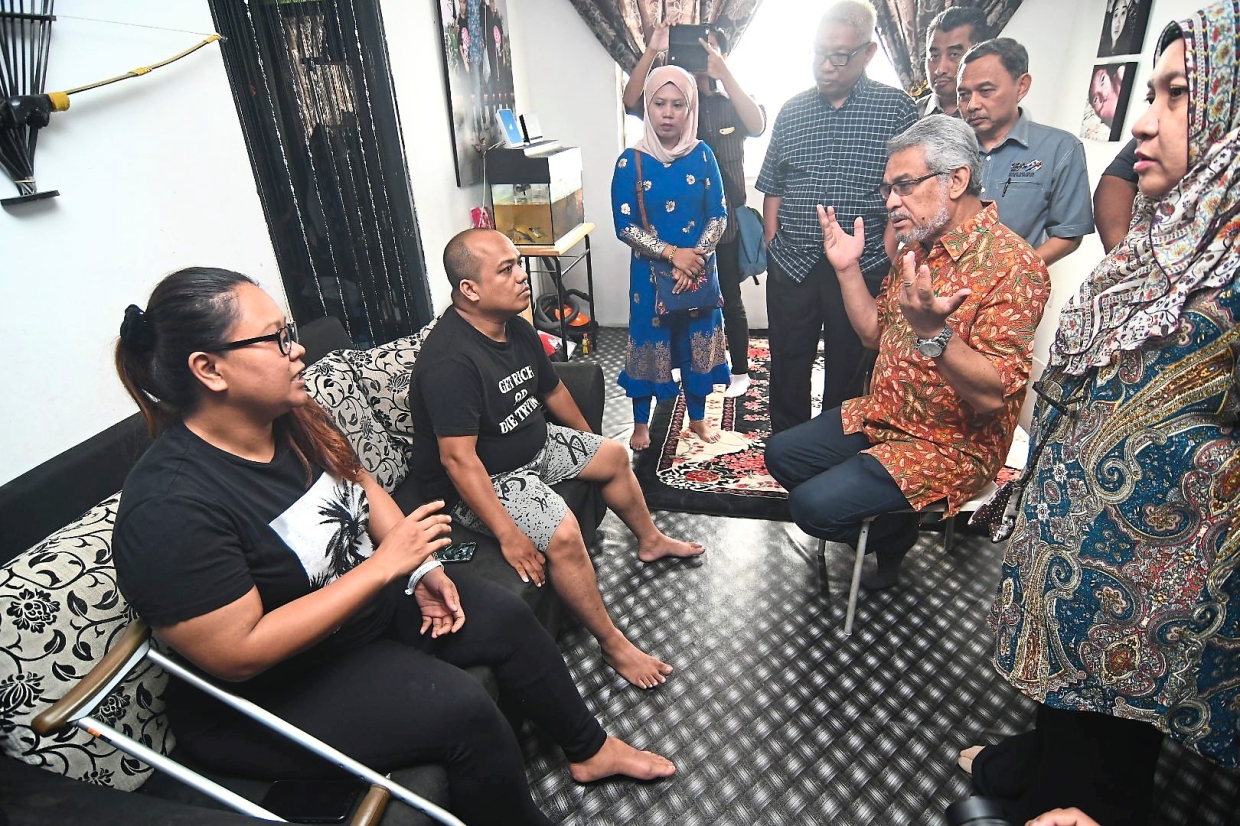 Khalid meeting with Johari and Noorhasniza at their home in Kampung Kerinchi, Pantai Dalam. PHOTO: The Star/Asia News Network
Johari Kamarudin, 40, and his wife Noorhasniza Jamaluddin, 34, said they were lucky not to suffer more serious injuries other than hurting their ankles.
The couple were in the lift on their way up to their 15th-floor home when a passenger alighted on the fifth floor and it crashed.
"The boy that got off on the fifth floor could have had his leg snapped off if he had been a few seconds slower.
"When it crashed, we were all dazed and disoriented, " Noorhasniza said of the horrifying experience.
It is learnt that Kuala Lumpur mayor Datuk Nor Hisham Ahmad Dahlan has called for a meeting with all 11 contractors tasked with maintaining lifts in PPRs.
Kuala Lumpur and Putrajaya DOSH said it is the building owners' responsibility to ensure that the lifts are in good condition and safe to use.
"The owner is responsible for making sure that the lifts are maintained regularly by a reputable firm at least once every 12 months.
"Legal action can be taken if they fail to keep the elevator in good condition and cause accidents, " it said.
Meanwhile, social activist Tan Sri Lee Lam Thye urged all local authorities to take necessary measures to ensure the safety of lifts in public housing flats.
"They must replace old and expired lifts and allocate a sufficient budget for maintenance and replacement of such facilities. The incident should serve as a lesson to all local authorities to never allow it to recur, " he said.