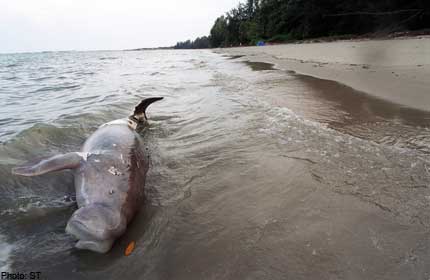 KUALA TERENGGANU - Malaysia has launched its first ever team to rescue marine mammals stranded on beaches.
Spearheaded by the Fisheries Department, the team has 46 members from 23 government agencies, statutory bodies, universities and non-profit groups.
"With the setting up of this team, Malaysia will be more efficient in saving stranded marine mammals and also reduce the number of deaths."
"This will increase Malaysia's image internationally as it will show our commitment to save and protect marine mammals," said Fisheries Department director-general Datuk Ahamad Sabki Mahmood when launching the team in Rantau Abang, Dungun, yesterday.
He said the department had recorded five cases of stranded animals in the country last year. These included dugongs, whales and dolphins.
"Before this, we did not have enough expertise in rescuing stranded animals. The team members will be trained to handle such situations. They will also be given the proper equipment to help them," he said.
Ahamad Sabki said that Malaysia was the second South-East Asian country after the Philippines to form a team to handle beached animals.
"Besides rescue work, the team will also be involved in creating public awareness on the importance of protecting endangered marine mammals."
The Fisheries Department is currently promoting the use of the turtle excluder device to fishermen, which is a tool to help marine creatures like turtles, dugongs and dolphins to escape from fishing nets.