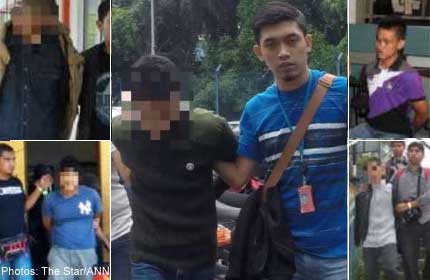 KUALA LUMPUR, April 29, 2014 (AFP) - Malaysian police on Tuesday arrested a woman believed to be part of a radical Islamic terror group, reports said, bringing the total number of those detained this week to 10.
Police arrested nine Malaysians Monday in raids near the capital Kuala Lumpur and the northern state of Kedah on suspicion of being involved in a militant group.
The group was believed to have links to terrorists abroad and "responsible for planning terror acts in and outside the country", police said.
Another woman believed to be a member of the cell was held early Tuesday in Kuala Lumpur and police were expected to make more arrests, said Home Minister Zahid Hamidi according to the New Straits Times.
"The authorities are working to track each and every one of them down," Zahid was quoted as saying.
The Home Ministry and other officials could not immediately be reached for further comments.
The Star daily quoted an unnamed source as saying that the radical Islamic group intended to carry out bomb attacks against government targets in what it saw as a "holy war".
"This group is against any Muslim country seen as secular and pro-democracy," the source was quoted as saying.
It added the group was active since last year and that the two women and eight men arrested so far included students, odd-job workers and professionals.
US President Barack Obama, who is on an Asia tour, left Malaysia early Monday after a three-day stop intended to deepen ties with the moderate Muslim-majority nation.
The Malay Mail daily quoted unnamed police sources as saying the arrests did not relate to the visit.
Though Malaysia practises moderate Islam and has not seen any notable terror attacks in recent memory, concern has risen in the multi-faith nation over perceived Islamisation.
The Southeast Asian country also has been home to several suspected key figures in militant Islamic groups, such as the al-Qaeda-linked Jemaah Islamiyah blamed for the deadly 2002 Bali bombings and other attacks.
Police have said they are also probing terrorism as one possible reason for the March 8 disappearance of Malaysia Airlines flight MH370.
A source familiar with the arrests told AFP on Monday that those detained were Malaysians but not linked to Jemaah Islamiyah or the disappearance of the jet.
The plane, carrying 239 people, is believed to have crashed into the southern Indian Ocean, but no sign of wreckage has been found.