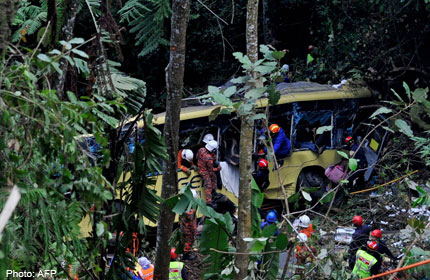 BENTONG - Police said the ill-fated express bus which plunged down a steep ravine in KM3.6 of Jalan Genting-Kuala Lumpur, was believed to be overloaded.
Bentong police chief Superintendent Mansor Mohd Nor said the bus was carrying 53 people, exceeding its maximum load capacity of 48 excluding the driver.
He said police would also set up its own team to investigate the crash which killed 37 people while the other 16 were injured.
He said investigators would consider if the cause was due to human or mechanical factor as the weather and road condition were normal when the bus suddenly crashed into the road barried and plunged jumped into the ravine.
"We are working together with various agencies in investigating this tragedy - looking at every angle to find out what had happened." Meanwhile, he said his team was monitoring the condition of the injured victims warded at three hospital in the Klang Valley before interviewing them to get a clearer picture into the incident.
As of 9.30pm. the rescue operations was called off after all the 37 bodies were taken out from the wreckage.
He said the operation would continue tomorrow with the help of the K-9 unit for otherpotential victims either still trapped underneath the bus or hidden among the thick undergrowth.