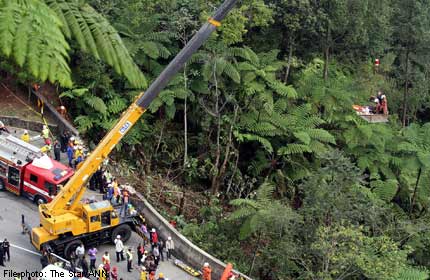 MALAYSIA - People can say what they want, but my brother-in-law was not one to quarrel with people.
Mr Ong Cheng Hoe said this to The New Paper in response to comments that bus driver Lim Kok Hoe had a fierce argument with a taxi driver before his bus plunged down a 60m ravine, killing 37 people.
The incident, which happened on Tuesday afternoon along the road near the Chin Swee Caves temple in Genting Highlands, is Malaysia's worst road accident.
Speaking over the phone last night, Mr Ong, 54, said that he does not think Mr Lim had exchanged vulgarities with the cabby who had reportedly overtaken the bus dangerously.
Mr Ong, who works in construction, said in Malay: "My brother-in-law lived with my wife and me in Kuala Lumpur. We are 'kamcheng' (very close), and he is not the kind of person to quarrel with others.
"If he's not a good person, he wouldn't have got along well with me. All of us are very sad that's he's gone."
He added that Mr Lim, a divorcee with two children, was a professional and experienced driver who took pride in his work.
"I think there could be something wrong with the bus, maybe with the brakes. The road at Genting is also very steep and dangerous.
"For now, I think the best thing to do is to wait for the police to conclude their investigations and wait for their findings," said Mr Ong.
He also said that before Mr Lim, 43, drove for KL-based company Genting Highlands Transport, he worked for several years with a bus company that has services between Singapore and Johor Baru.
Mr Ong's statements contrast with what some individuals have said about Mr Lim in Malaysian media reports.
The New Straits Times reported that Mr Lim was said to be a person who was used to order and could not tolerate delays as he used to work in Singapore.
Said a colleague of Mr Lim, who wanted to be known only as Aji: "He (Mr Lim) does not speak much and is rather impatient.
"I was told that he used to work for a bus company in Singapore, where things are more systematic and organised, compared with the terminals and operations here.
"He was the type who got annoyed when there were delays."
Aji, who has been a bus driver for 28 years, said he always drove with extra caution on slopes. This is because the highland slopes, with their sharp bends, could be deceptive for motorists, The New Straits Times reported.
He seemed angry
Some crash survivors also said that Mr Lim seemed angry just before the crash.
"It was like he deliberately wanted to kill us. He made no effort to swerve to the emergency escape ramp which was directly before the spot where the bus went over into the ravine," The Star quoted Mr Tan Ming Shing as saying.
The 26-year-old kitchen helper at Genting Highlands said: "Barely minutes after starting the journey to go downhill, the bus nearly hit a pillar.
"Several hundred metres on, the driver made a sudden turn and this caused a Honda City to nearly hit us."
Land Public Transport Commission chairman Hamid Albar said Mr Lim had committed various offences.
"We received information from the police that the driver has quite a number of previous offences," he said, declining to elaborate whether they were traffic-related.
ashaffiq@sph.com.sg

Get The New Paper for more stories.