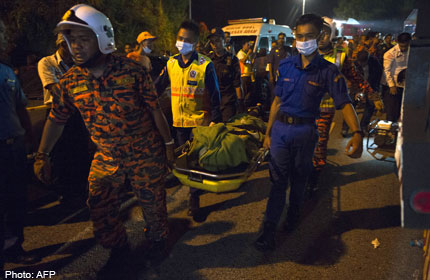 KUALA LUMPUR - Acting Transport Minister Datuk Seri Hishammuddin Hussein said no stone will be left unturned in an investigation into the cause of the Genting accident, which claimed 37 lives and left 16 bus passengers injured.
"We will leave no stone unturned to find out the cause. I am speechless to have learned of such a tragedy during this Hari Raya festive season.
"This is not the first time such a bus accident has happened in Genting. I sympathise with the victims and their families.
"We don't want to point fingers at the moment, but we will get to the bottom of things in due course," Hishammuddin, who is also defence minister, said at the ministry's Hari Raya open house yesterday.
In Bentong, police chief Superintendent Mansor Mohd Nor said a task force had been formed to probe into the tragedy.
"We are also monitoring the condition of all the injured victims before we can interview them to get a clearer picture into what caused the accident."
The probe will look into human and mechanical factors, as the weather and road condition was normal, when the stage bus plunged into the ravine.
In Kuantan, the Land Public Transport Commission (SPAD) has also established a task force to investigate the tragedy.
Its chief executive officer, Mohd Nur Ismal Mohamed Kamal, said the task force would comprise all the relevant agencies, including Malaysian Institute of Road Safety and Research (Miros) and the Works Ministry.
"A detailed investigation will be conducted to identify the cause of the tragedy. We will also look into long-term measures to prevent a recurrence.
"We are still waiting for a full report from the authorities before taking further action," he said, adding that the accident could have been triggered by the driver's recklessness, uneven roads or weather.
"My team will also make an announcement if there is negligence on the part of the bus company."
SPAD, he said, had been reminding bus companies through notices to monitor their respective drivers and to ensure that the buses were in good condition.
Drivers were always reminded to check the condition of the bus brakes and other aspects before starting any journey.
SPAD chairman Tan Sri Syed Hamid Albar extended his condolences to the victims of the tragedy and their families.
"This is one of the worst bus crash ever to occur in a highland area.
"We are waiting for a full investigation to be carried out before narrowing down the cause of this deadly incident."