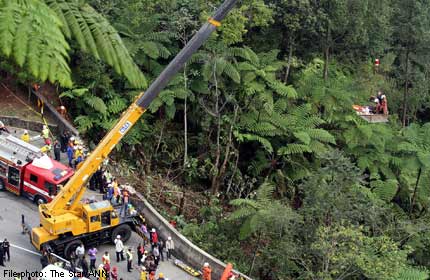 KUALA LUMPUR - The Land Public Transport Commission has decided to suspend the licence of Genting Highlands Transport Sdn Bhd, the operator of the stage bus that crashed in August, killing 37 people.
Its chairman, Tan Sri Syed Hamid Albar, said the suspension letter might be issued this week after the commission had ensured that alternative public transport had been arranged.
"We need to take into consideration how suspending the company will affect the public, not only those who rely on their bus services, but also the workers involved.
"After the letter is issued, the company will be given seven days to inform the public before the suspension comes into effect."
The decision comes following a report by the Malaysian Institute of Road Safety Research, which found, among other factors, that the bus operator had failed to comply with safety regulations. The bus had been travelling beyond the permitted speed limit, while faulty brakes had prevented it from stopping as it approached a sharp bend when the accident occurred in Jalan Genting on Aug 21.