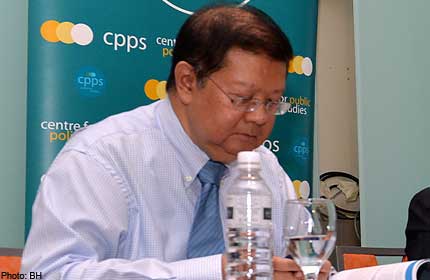 KUALA LUMPUR - The Government should consider the National Economic Advisory Council's (NEAC) proposal to set up an Equal Opportunities Commission, said Asian Strategy & Leadership Institute (Asli) CEO Tan Sri Michael Yeoh.
According to him, the proposal was worth considering in light of the Government's efforts to further promote national unity.
The Equal Opportunities Commission, which aims to deal with possible cases of unfair treatment and discrimination, was one of NEAC's proposals included as a recommendation in Part 1 of the New Economic Model report unveiled by the Government in 2010.
"Perhaps it is timely for the Government to look again at this recommendation," said Yeoh in his welcome address at a forum titled Unity and Multiculturalism: Building a Future Together that was held here yesterday.
The forum was organised by Asli and the Association of Voices of Peace, Conscience and Reason (PCORE), a non-governmental group.
Yeoh also suggested that the Government adopt a "human rights" approach, rather than a strictly race-based approach, in drawing up national development strategies which could help ensure adherence to principles of fairness and justice.
"A human rights approach focuses on the rights of those in need from all races and in all locations."
In her address, the Sultan of Johor's consort Raja Zarith Sofiah Sultan Idris Shah, who is the patron of PCORE, praised the national unity campaign organised by The Star Online in May this year.
The #MyWant hashtag initiative that had sought to find out what people wanted for the country received a strong response from Malaysians who expressed messages of unity on Twitter.
Reading out some of the heartwarming messages by supporters of the campaign, Raja Zarith said it went to show that many Malaysians believe in the importance of unity.
"All of us here want peace and unity, but we also have people out there who think just like us," she said.
Raja Zarith said that while those who attended the forum had already decided that unity, mutual respect and understanding were important, the challenge was to convince those who felt otherwise.
"How do we convince them that what concerns us should also concern them? We have to find ways and means of getting our message through to all Malaysians," she said.