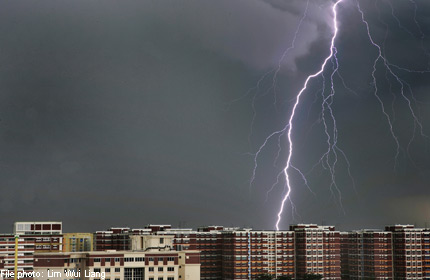 MALAYSIA - The joy of a wedding celebration for a family in Puchong turned into tragedy when the 18-year-old brother of the groom was fatally struck by lightning in front of horrified family members and guests, reported Sinar Harian.
Mohd Fareez Naim Mhd Fuzi was struck by lightning during a thunderstorm at about 3.30pm on Sunday as he was accompanying his pregnant aunt and seven-year-old niece to their car after the reception in Taman Mawar.
They were all under an umbrella.
Witness Abd Manap Kamal Bahrain said he saw a bright flash and a loud explosion before seeing the umbrella used by Mohd Fareez catching fire and all three collapsing on the road.
"A few guests rushed to the scene. All three were rushed to the hospital. Mohd Fareez passed away shortly," he added.
Ceremony emcee Azizul Azwan Amran 31, said the victim was the first to arrive at the reception and spoke to him.
"His words are still echoing in my ears. He told me that the shirt presented to me by his father was chosen by him," he said, adding that Mohd Fareez told him never to forget that the shirt was chosen by him for the event.