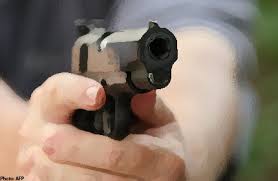 JOHOR BARU - Used to dealing with corpses, an undertaker escaped being one when an armed intruder failed to kill him because the trigger of his weapon got jammed.
The unwelcomed visitor, wearing a helmet, hastily left, speeding away on his motorcycle from the casket shop in Taman Ungku Tun Aminah.
The incident occurred minutes after the undertaker, in his 50s, opened his casket shop in Jalan Perwira 19 at around 8am yesterday.
The gunman, on the pretext of being a customer and concealing his weapon in a newspaper, went in the shop to ask about the coffins. He then pulled out the gun and tried to fire a shot but the trigger jammed. He tried again and, after failing a second time, rushed out.
Johor Baru (North) OCPD Asst Comm Ruslan Hassan said police were hunting the suspect.
In an unrelated case, a Bangladeshi worker died after he slipped and fell from the 16th floor of a building under construction at Tampoi here.
Abdul Hanaah, 32, landed on the fifth floor and a post-mortem revealed that he broke his neck, right arm and back. The case has been classified as sudden death.