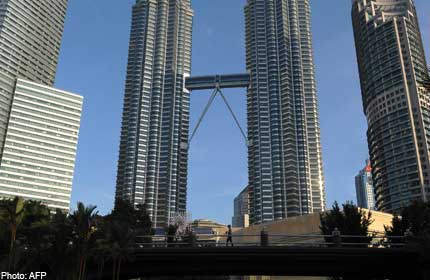 PETALING JAYA - Ma­­­lay­­­­­sians can expect haze-free skies in the coming week but have to look out for flash floods instead, according to the Meteorological Department.
Its central forecasting office director Muhammad Helmi Abdullah said that changing wind patterns had created conditions for rain cloud formation.
"This pattern should last at least until early next week.
"We expect a lot of rain over most parts of the peninsula, especially the inland areas of Kelantan, Terengganu and Pahang," he told The Star.
Muhammad Helmi said that recent flash floods were due to the formation of thunderstorm clouds resulting in heavy rains, mostly in the afternoons.
He said that the current weather pattern was light north-westerly winds over the northern region and south-easterly winds over the southern region, moving at between 10kph and 20kph.
"Parts of Sumatra, especially its central region, are also experiencing heavy rain. The wind conditions there are favourable for the formation of thick clouds," he said.
The Department of Environment's Air Pollutant Index (API) showed that there were no areas with unhealthy air quality yesterday. Most locations recorded good air quality.
The ASEAN Specialised Meteorological Cen­tre, meanwhile, detected four hotspots in Sumatra.
The choking haze from Indonesia hit Malaysia in June, prompting the Government to declare a haze emergency in the Muar and Ledang districts of Johor when API readings surged over 700.
Malaysians feared the haze would return when the air quality in several states worsened last week, with the API in Bakar Arang, Sungai Petani, Kedah, reaching 104 last Wednesday.
API readings from 0 to 50 are classified as "good", 51 and 100 "moderate", 101 to 200 "unhealthy" and 201 to 300 "very unhealthy". Any reading above 300 is "hazardous" while readings above 500 come under "emergency".