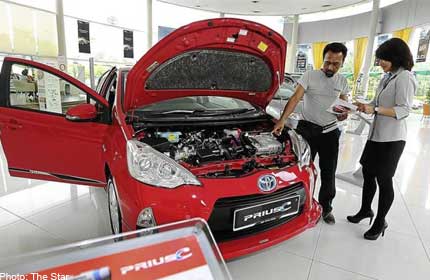 KUALA LUMPUR - Interest in hybrid cars is said to be picking up following the latest round of fuel price increase.
But while distributors of hybrid cars are embracing the latest development, they are uncertain how things will fare after the end of this year - when the tax incentives on hybrid and electric cars expire.
"With the petrol price hike, there will be more awareness regarding the benefits of hybrid cars. I hope this will spur the sales of hybrid models this year," said UMW Toyota Motor Sdn Bhd president Datuk Ismet Suki.
He hoped that the tax incentives would be extended.
"Without the tax incentives, hybrid cars would not be as attractive in pricing. Also, more time is needed to educate the public and improve awareness on these eco-friendly cars," he said.
"We are also seriously looking at introducing new Toyota hybrids in Malaysia or local assembly operations with the right incentives."
Under Budget 2012, the Government gave full exemption of import duty and excise tax on hybrid and electric cars below 2,000cc until Dec 31, 2013.
The move saw hybrid car sales for that year jumping 84 per cent to 15,355 units (compared with 8,334 units in 2011), according to data from the Malaysian Automotive Association.
"I think there will be more interest in hybrid cars in the next few months. Even before the fuel price hike, we saw strong response from the public during our recent Honda hybrid roadshows," said Honda Malaysia president and chief operating officer Roslan Abdullah.
Honda Malaysia managing director and chief executive officer Yoichiro Ueno said the company needed to "wait and see" before making plans to launch more hybrid models in the country.
"In Japan and the United States, the Honda Accord hybrid is very successful. In Malaysia, it might be difficult for us to market imported hybrid cars next year as prices would be higher if the tax incentives or support is removed," said Ueno.
Hybrid car owner Tee Lin Say said her car had substantially reduced her monthly petrol expenditure.
"Since I started driving my Toyota Prius in March last year, I hardly went to the petrol station. If I were to only drive around the Petaling Jaya area, I only need to fill up once a month, which usually costs me RM60," she said.
The StarBiz journalist said she could not imagine going back to driving regular petrol engine cars.
"I used to drive a Toyota Vios, which is no doubt a fuel-efficient vehicle. However, when it comes to fuel economy, the Prius is better. My monthly fuel bill is down by more than 50 per cent," she said.