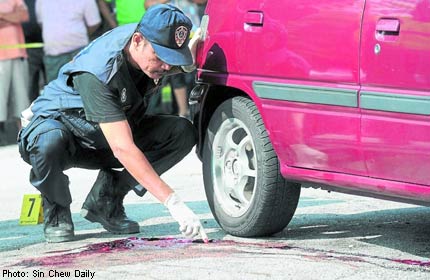 IPOH - A former Royal Malaysian Air Force (RMAF) air traffic controller was shot dead at close range in Ipoh, Malaysia.
Mr S. Jambu Keshan, 39, had just got out of his car to go to his father's restaurant when he was shot at about 7.15am on Sunday.
Ipoh OCPD Assistant Commissioner Sum Chang Keong said a silver Toyota Vios pulled up near Mr Jambu's car and a man wearing a full-faced helmet alighted from it and fired three shots, reported Malaysia's The Star.
"The suspect returned to the car, which was driven by an accomplice, and sped off," he told reporters.
Police found a bullet and three spent shells at the scene.
Mr Sum said a member of Mr Jambu's family drove him to the Raja Permaisuri Bainun Hospital, but he was pronounced dead upon arrival.
Mr Jambu was a Laskar Udara Kanan (Leading Aircraftman) before he left the RMAF five years ago.
He was the head of Geng 36 in Batu Gajah.
Perak CID chief Mohd Dzuraidi Ibrahim said Mr Jambu is believed to have been gunned down by rival gang members due to drug-related matters.
Turf war
"We also believe the shooting is related to a turf war between the victim's gang, Geng 04 and Geng 08," he said on Monday.
Mr Dzuraidi said police have taken statements from two witnesses and believed that there were more than two suspects involved in the shooting.
"We are still trying to identify the suspects involved and we believe more people could be involved," he said.
He assured that the situation was under control and would remain so.
At the hospital mortuary, Mr Jambu's brother Ashok Kumar, 28, said he was shocked by the shooting.
The factory worker, who was himself admitted to the same hospital following an accident recently, headed to the mortuary but was not allowed to see the body.
Describing him as "a good man and a good brother", he said Mr Jambu was the eldest of four siblings.

Get The New Paper for more stories.