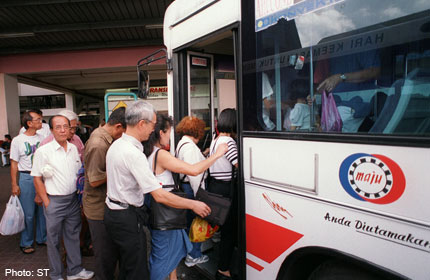 JOHOR BARU - Commuters intending to purchase bus tickets to major destinations from here are now fuming over the drastic price increase on a scale they had never seen before.
Factory worker Mohd Samad Salleh, 50, grumbled that it was unfair how bus companies at the Larkin bus terminal here were hiking prices indiscriminately.
"A bus ticket from Johor Baru to Kuala Lumpur usually costs about RM32 (S$12), but is now being sold for as much as RM70. This is just ridiculous, and blaming the recent petrol hike does not make sense."
Housewife Rohani Senin, 54, said that she just had no choice but to fork out RM50 for her daughter who is travelling back to her college in Kuala Lumpur.
"We never buy from touts but even the counters are quoting the same price," she said.
Checks by The Star revealed that most companies had increased ticket prices, and added a surcharge of between RM3 and RM40 for tickets to major destinations.
"Everyone (bus companies and touts) agreed to increase prices because demand is there," said a ticket tout who declined to be named.
A ticket sales worker, who also declined to be named, said that there was an overall increase of about 10 per cent since the recent petrol hike, but most companies sell tickets for more than double the usual price during long weekends and public holidays.
"It was a common practice," she added.