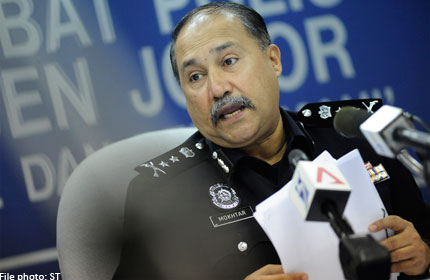 JOHOR BARU - A total of 124 people high on the police wanted list were arrested by state police as of Tuesday under Op Cantas, mounted since Aug 17.
State police chief Datuk Mokhtar Shariff said the suspects were wanted for various cases including rape, robbery, house break-ins and vehicular theft.
"A total of 237,709 people were screened during the operation and out of that number, 5,040 people were arrested."
He was speaking at the state police headquarters yesterday.
Mokhtar said 1,126 were arrested for serious crimes, 907 for property-related crimes and 3,007 for other crimes.
He said 1,610 people had been charged in court as a result of the arrests made during the operation.
"With the arrests, police believe we have solved more than 50 per cent of the cases in the state," said Mokhtar.
He added that the success of the operation was also due to police intelligence.
He said 2,096 suspects had been released on bail and 697 were being remanded.
Mokhtar said police had also seized 14 air guns, three guns and 13 fake guns during the period.
"Police also seized 216 other weapons, including samurai swords, machetes, axes, scissors and wooden poles."
Also seized were 112 cars, 163 motorcycles, three vans, 13 lorries and 11 excavators.