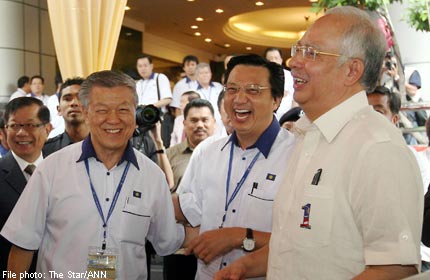 KOTA TINGGI - MCA deputy president Datuk Seri Liow Tiong Lai said that his decision to run for the party presidency was only made in the wake of its chief Datuk Seri Dr Chua Soi Lek's announcement that he would not be defending his post in the MCA polls scheduled for December.
Liow said although Dr Chua had recently stated that he was unsure if he wanted to contest for the post, he believed that he (Dr Chua) would not.
"He (Dr Chua) has earlier announced that he would not be defending his post and I believe that he is a man of his words," he said after paying his last respects to former Gelang Patah MP Tan Ah Heng, who passed away on Saturday.
In May, MCA president Dr Chua had announced that he would not be seeking re-election. On Aug 9, Dr Chua however said that he had never announced if he would contest or not.
Liow said he wanted to push for reforms within the party and to do this, he needed a like-minded team who would stand by him.
Asked if Ayer Hitam MP Datuk Dr Wee Ka Siong and MCA deputy secretary-general Datuk Dr Hou Kok Chung would be part of his team, Liow declined to comment.
"Many people say that I work well with Dr Wee and Dr Hou but I cannot comment on this matter for now," said Liow.
The Chinese community and MCA members, he added, were also hoping that the party would remain united and refrain from internal arguments.