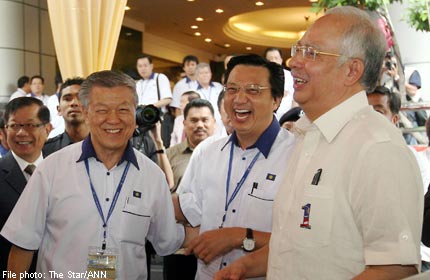 KUALA LUMPUR - Datuk Seri Liow Tiong Lai has been knocking on the doors of central delegates who are staying in nine hotels here until the wee hours of this morning to garner their support.
Most of the 2,380 plus delegates have started arriving as early as Friday, in time to vote at the extraordinary general meeting (EGM) at Wisma MCA here today.
Liow told The Star that he had been busy criss-crossing the country to meet central delegates for about two weeks, and he had to intensify his efforts in the hours leading up to the EGM.
He confessed that he was facing huge pressure to defend himself against the resolution to censure him.
"The feedback for me is positive," said Liow, adding that he would not want to go down in history as the first MCA deputy president censured by the party.
The resolution says the deputy president has refused to accept collective decisions by the party, and his actions have triggered infighting among members and tarnished the party's image.
It also says that Liow, who was the chairman for the party's general elections preparation committee, had failed in his duty.
On a letter from the Registrar of Societies (RoS) requesting president Datuk Seri Dr Chua Soi Lek to reconsider the resolution to censure him, Liow said Dr Chua and also the 20 central committee members who petitioned for the EGM would have to bear the consequences if any legal complications arose from the EGM.
At a press conference at Wisma MCA here yesterday, Liow also read out a list of his attendance at the mega dinners in several states in the run up to the May 5 general election to show that he had not neglected his role as the party's general election preparations committee chairman.
He also pointed out that he was appointed to the post on Aug 23, 2011, and had held it for one year and eight months only, and not three years and eight months as claimed by his critics.
"This is one of the many accusations made against me," he said.
Liow also came up with a four-page pamphlet themed "Upfront and Personal with Liow Tiong Lai" in Chinese and English.
Seven central committee members, including Youth chief Datuk Dr Wee Ka Siong and Wanita chief Datuk Yu Chok Tow, were with Liow at the press conference.