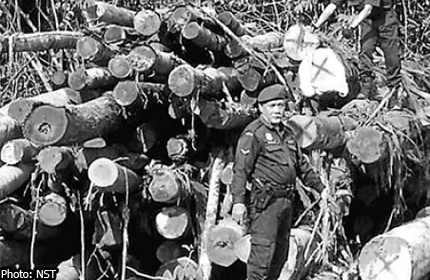 KUCHING - Sarawak Marine Police busted an illegal log pond, an area where logs are floated and gathered after harvesting, operating in Igan, Sibu.
In the 1pm operation on Tuesday, police also discovered 300 illegal logs believed to be harvested from an undesignated area for logging activities.
Its commander, Assistant Commissioner Mohd Saleh Mat Jani, said police believed the logs were to be smuggled out to other sawmills to cover up their tracks.
"There were no heavy machinery or logging equipment in the area. We believe that this log pond was active since a couple of days ago," he said.
The logs are believed to be worth RM35,000 (S$13,700) and the case will be investigated under the State Forestry Ordinance 1984.
In other developments, Marine Police will carry out Operation Tango Papa to monitor all river transport activities in all the main terminals in the state from Aug 3 to 18.