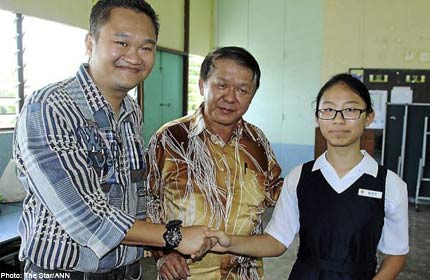 PORT DICKSON - Being the only Year Six pupil in SJKC Ladang Siliau, Choi Kee Feng never had classmates to exchange study notes with.
Throughout the year, she had the entire classroom to herself and had no peers to discuss exam topics or share her fears with as the exam drew near.
But Choi made that up with determination to do well with a set of dedicated teachers.
Yesterday, Choi's determination and her teachers' efforts paid off when she scored 7As in the UPSR exam.
"I am so happy for making my school, teachers and parents proud," said the farmer's daughter after receiving her results from headmaster Pang Kow.
SJKC Ladang Siliau only has an enrolment of 11 pupils.
Her parents who lived in Lukut were unable to be present in school as they were busy in their farms and had to market their greens.
But present at the school to give her words of encouragement was Teluk Kemang MCA chief Datuk Seri King Lim who also gave her a cash reward.
In Petaling Jaya, Navin Sivakumar, 12, has followed in his siblings' footsteps by scoring five As in the exam.
The pupil of SK Bandar Utama Damansara 4, who was a prefect and represented his school in football at the district level, wants to emulate his elder brother who will be studying medicine next year.