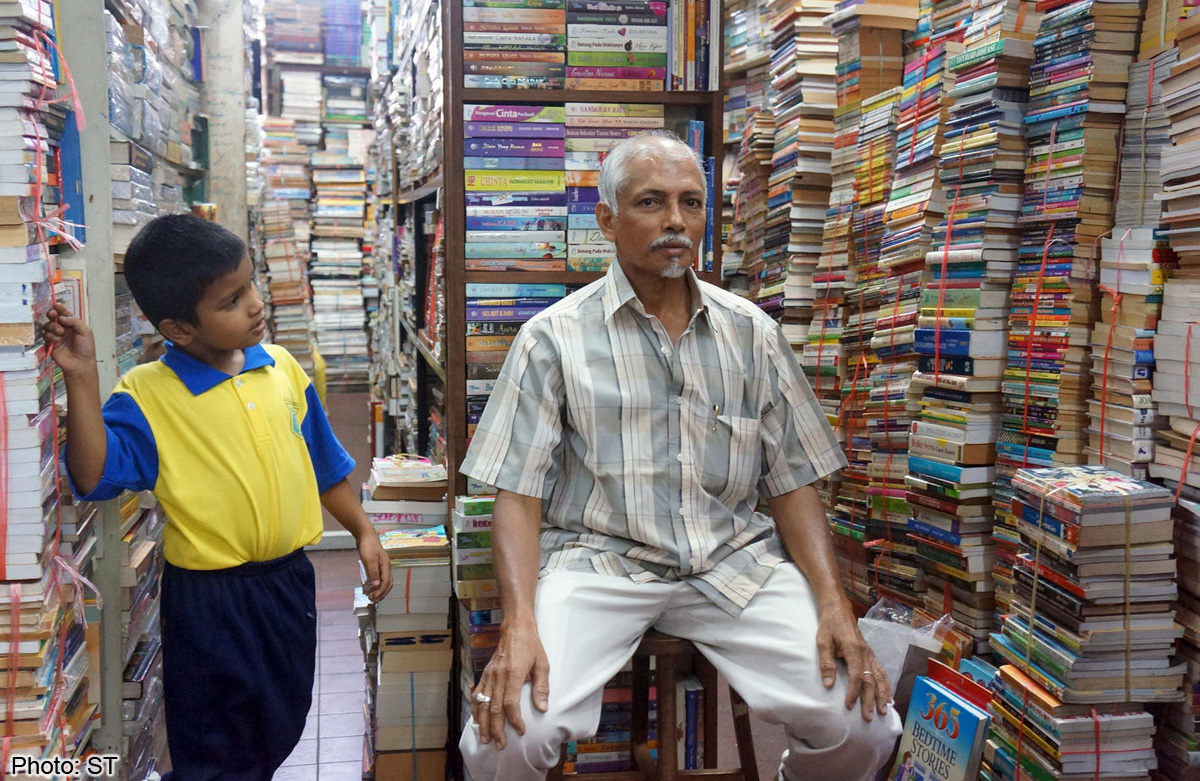 MALAYSIA - Bookseller Mohamed Assalam Gulam confesses that he isn't much of a reader.
"I read sometimes but not a lot," said the 33-year-old. He prefers the Internet for information and entertainment.
That admission sums up neatly the competition posed to his second-hand bookstore by a computer screen that is speedier and sexier.
"For the young, it's all about the Internet," said his father Gulam Mohamed, 59. The family has been running a used-books store inside the famed Chowrasta Market for 30 years.
The Internet has driven such shops to near extinction in big cities such as Kuala Lumpur. But a low-cost and nimble business model has kept George Town's stores alive.
Chowrasta's second-hand bookstores - with their teetering towers of books stacked to the ceiling - are tourist attractions in their own right. Each store stocks thousands of books, and there are about 20 of them side by side.
The booksellers may have no idea how many books they stock, but they have no trouble locating something a customer is looking for, even though it may seem like the proverbial needle in a haystack.
Chowrasta, which means "four cross roads" in Urdu, was rebuilt in the 1960s to replace the 1870 building which had been the first market in George Town. The new market boasted the first escalator in Penang and people flocked here to try the moving steps.
Where once the bookstores were teeming with browsers, they are often quiet these days. Renovation work at the market isn't helping.
"Business goes up and down. Some people still want to read and to hold books, so we can get enough customers," said Mr Gulam. "We still can make a living but we can't build a hill (of money)."
Perversely, their survival could well be due to the fact that they are run by people who don't read much. Without being burdened by any opinions on literature, the owners forsake quality for quantity. They also have a well-honed radar for fickle customer tastes, and are fast to adapt.
Mr Gulam was quick to spot a surge in demand for classics by William Shakespeare, Charles Dickens and Thomas Hardy when students started hunting down cheap used copies. College textbooks, like medical books, are always in demand.
Older bibliophiles look for classics too, but the popularity of contemporary authors tends to be less enduring.
Mr Gulam's fellow store owner Nasir Khan said the titles that are currently moving fast include those by John Grisham, Judith McNaught and Haruki Murakami.
"Everyone reads the same thing," said Mr Nasir, who, however, has not read them despite having been in the business for over 20 years. Rentals of as low as RM140 (S$53) a month allow the stores to sell books for as little as RM2 and also to survive for now, according to Mr Nasir. But he does not know what the future will be like.
"E-books have not caught on here yet but who knows what will happen?" he said. "We just carry on for now."
Penang resident Chelsea Nair, 42, visits Chowrasta's bookstores to find out-of- print novels and magazines though she now uses an e-reader as well.
"The prices are so affordable," she said.
German tourist Gerhard Kessler, 68, and his wife Birgit, 63, love the bookstores for their quaint haphazardness but left without buying anything.
"There are just too many books," said Mr Kessler.
Booksellers like Mr Gulam hope that when the market's renovations are completed early next year, they will have more display space, more parking areas and better signage.
Such changes will be good for business. But for how long? That is anybody's guess.
carolynh@sph.com.sg

Get a copy of The Straits Times or go to straitstimes.com for more stories.