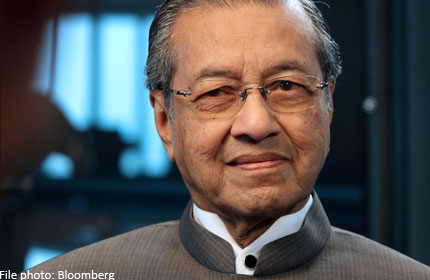 PUTRAJAYA - Tun Mahathir Mohamad has sharply criticised Malaysian Prime Minister Najib Razak and his government, saying they are weak and acceding to demands by extremists in the opposition.
The former prime minister has not criticised Datuk Seri Najib Razak since the latter took power in April 2009, and had praised him as better than former premier Abdullah Badawi.
"The political situation now is unstable because the perception is that the government is weak and the lunatic fringe now hold sway over politics in the country," Dr Mahathir said in Putrajaya on Monday, the Malaysian Insider reported.
"We have a government that is weak because of weak support from the people, and with a tendency to accede to the demands of extremists in the opposition," Dr Mahathir said.
He made the remarks during a keynote address on "Current political trends and their impact on economy and social direction" at the Perdana Leadership Foundation.
He said the appropriate response to such extremism was not to be accommodating, because the government would not gain anything but would instead face bigger problems.
"The moderates are normally voiceless. They don't speak their minds because they are afraid of being criticised by the extremists."
However, he did not name the extremists or say what their demands were.
The scathing criticism did not surprise politicians and analysts, who said his son's loss in the Umno polls earlier this month was probably the catalyst for the former prime minister's attack, according to the Malaysian Insider.
Dr Mahathir's son, Datuk Mukhriz, who is also Kedah Menteri Besar, narrowly lost in his bid for one of three party vice-presidencies by 10 votes.
"It could stem from the fact that Mukhriz lost in the Umno elections," Universiti Malaysia Sarawak political analyst Jeniri Amir told the website.
A day before the party polls, Dr Mahathir had predicted that Datuk Mukhriz would have a tough fight as he was not the "chosen one".
On Monday, Dr Mahathir also said Mr Najib's allies had preserved their positions in the Umno hierarchy by buying votes.
"We are told that they've eliminated corruption during the recent Umno election, I am not convinced," Dr Mahathir said.
Although he did not mention Mr Najib by name, he said: "I think there was a lot of money involved, going into the millions, and loads of people who should not be getting votes were getting votes because of the money they spent."
Get a copy of The Straits Times or go to straitstimes.com for more stories.