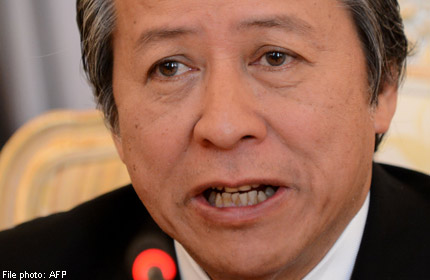 PUTRAJAYA, Malaysia - Malaysia is opposed to any plans by the United States to strike Syria over President Bashar al-Assad's purported use of chemical weapons against civilians as it will not solve any conflict faced by that strife-torn country.
Foreign Minister Datuk Seri Anifah Aman said there was bound to be collateral damage in any military action, which would end with more casualties.
"Malaysia has never been supportive of military intervention in any country.
"Our position is clear; that the world must give the opportunity to all warring factions (in Syria) to sit down for a dialogue to find a solution.
"Political solution (is the best). We have seen what had happened in many countries; what happened in Libya, Iraq and Afghanistan.
"It (foreign military intervention) has not solved any problem, whatsoever.
"We believe the world must let the Syrian people decide the destiny of their country," he said here yesterday.
At the same time, Anifah said Malaysia was against the use of chemical weapons for whatever reasons.
"If it is indeed true and proven that chemical weapons were used in Syria, we strongly condemn it," he told newsmen after presenting a US$200,000 (RM640,000) aid from the ministry's disaster fund for Sudan flood victims.
The donation was handed to Sudan ambassador Khalid Abdilgadir Shukri.
On the role of the Arab League to help Syria resolve the situation, Anifah said the best way to help was through negotiations and political discussion.
"We strongly hope that the Arab League will find a solution to this problem because they are the concerned countries in the particular region.
"They should decide what is best for Syria and also the region, so that stability and security are guaranteed," he said. Anifah confirmed 17 Malaysians in Syria had opted to stay put in that country despite the looming military strikes.