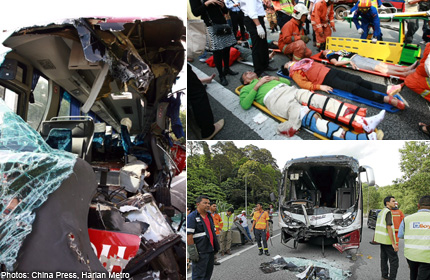 KUALA LUMPUR - A 74-year-old Singaporean woman, who was among the 33 people injured in an accident along the Genting Sempah-Kuala Lumpur stretch on Wednesday, died early yesterday.
Tham Choy Chan had suffered injuries to the head, pelvic bone and thighs, as well as sustaining tissue damage.
A Kuala Lumpur Hospital (HKL) spokesman said her family members claimed the body at 3am yesterday.
Eleven other victims, who were admitted into HKL, were stable and discharged by yesterday evening.
At Selayang Hospital, two of the 11 victims, had been discharged. The rest were in semi-critical, but stable condition.
Nine victims admitted into Sungai Buloh Hospital had been discharged.
The victims were involved in Wednesday's four-vehicle pile-up, which involved two buses -- one travelling from Genting Highlands and the other from Temerloh -- as well as a lorry carrying tin ore, and a Honda City.
Out of the 33 victims, 15 were foreigners.
It was reported that the lorry had been rear-ended by the bus from Temerloh. The lorry and bus then pulled over by the roadside to assess the damage.
However, the bus was rammed from behind by another bus, traveling from Genting Highlands.
Another vehicle, a Honda City, had tried to avoid a collision with the vehicles in front but crashed into a divider before overturning.