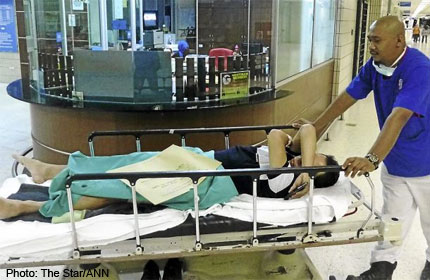 GEORGE TOWN - The three shooting incidents, including the assassination of a 37-year-old scrap dealer believed to be associated with Gang 36, which occurred over a span of 24 hours, has spawned speculation of a gangland war.
K. Veerappan was shot when he stopped the BMW 530i he was driving near a traffic light in Anson Road at 11.50am on Thursday.
It bore the registration number WVK 3636, which was believed to symbolise the gang's number.
A motorcyclist rode up next to the car and the pillion rider whipped out a pistol and fired 14 shots, 10 of which hit his neck, cheek and abdomen.
His body was found slumped and his white shirt drenched with his blood.
The driver's seat side window was shattered by the gunshots.
George Town OCPD Asst Comm Gan Kong Meng said Veerappan had had three previous drug records, adding that the car he was driving belonged to his 38-year-old friend who lives in Lebuh Macallum.
"Forensic policemen recovered 14 9mm-calibre bullet casings at the scene. Two machetes wrapped in newspaper were found in the car's rear passenger seat," ACP Gan said.
Before Veerappan's shooting, a gunman fired at least six shots at a businessman's bungalow in Jalan Utama. No one was injured in the 1.15am incident which is believed to be a triad's warning to the businessman.
Only his 29-year old son, his daughter-in-law and a maid were at home at the time of the incident.
ACP Gan said the businessman, in his 60s, who is presently abroad, had lodged a police report last month after receiving an extortion letter containing six bullets.
"His daughter-in-law and maid found glass fragments from the window on the floor and bullet marks on the walls.
"Based on the CCTV footage, the gunman fired randomly from outside the house," he said.
ACP Gan said the businessman had also received a text message in Chinese demanding that he deposit money into a local bank account.
"We are checking the mobile phone number from which the SMS was sent and also the bank account which has since been frozen.
"We are investigating the case under Section 39 of the Firearms Act and also Section 506 of the Penal Code for criminal intimidation," he said, adding that police had not ruled out the possibility that the case could be gang-related.
The third shooting occurred in front of an entertainment outlet in Jalan Datuk Keramat where a 43-year-old bouncer was hit in the left thigh at 12.30am yesterday.
A gunman fired seven shots but only one hit the victim nicknamed Too Pek (Stupid in Hokkien).
The bouncer is believed to be one of the top leaders of the Si Lian (Four Tyres) also known as the 04 Gang.
It was learnt that Too Pek had just gotten out from his BMW when the unidentified assailant on a motorcycle shot him.
"Despite being hit, he managed to make his way into the outlet to seek help from his friends. He was later sent to the Penang Hospital where he received outpatient treatment.
"Two foreign cleaners were questioned by the police after they were spotted sweeping up the seven bullet casings which were later recovered from a dustbin," said a source.
Gangland rivalry linked to the drug trade is also believed to be behind three other shootings - in Parit Buntar, Perak; Batu Kawan, Penang; and Air Keroh, Malacca.
A factory van driver N. Jeevandran, 26 was gunned down while leaving his house for work at Taman Seri Semarak, Parit Buntar on July 31. He had five previous criminal records and was was detained under the Restricted Residence Enactment until the Emergency Ordinance was repealed in 2011.
On May 12, S. Kannan, 37, and G. Suresh, 28, were killed and two others were seriously injured in a shooting at the Bukit Tambun traffic-light junction. They had just left a relative's wedding when two assailants on a motorcycle pulled up to the vehicle and fired multiple shots at about 10.30pm. Both deceased had criminal records.
Police believe the killings could be related to the shooting of S. Sara-vanan, 39, at Air Keroh in February.
Saravanan, who had travelled from Butterworth to stand trial for a robbery case, was gunned down moments after leaving the courthouse.