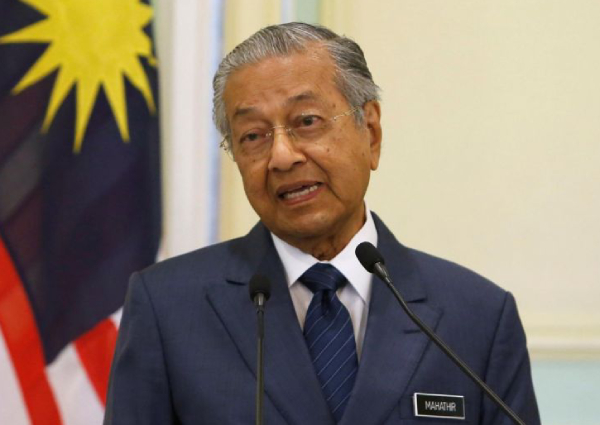 Malaysia's Prime Minister Mahathir Mohamad on Monday said China was likely to buy more palm oil from his country in exchange for his government's decision to resume work on a Beijing-backed rail project following renegotiations that shaved off nearly a third of the cost.
Mahathir said in a press conference that the price reduction of 21.5 billion ringgit (S$7 billion) - dropping the project's cost from more than 65 billion ringgit to 44 billion ringgit - announced on Friday was partly made possible because the Chinese contractor, China Communication Construction Company (CCCC), had agreed to bear some of the risks involved in maintaining and operating the line when it comes into operation in 2026.
Under the original deal signed by Mahathir's predecessor, Najib Razak, Malaysia bore those risks alone. The prime minister, 93, said negotiations were now underway to reduce the amount Malaysia had borrowed under the original deal from the Export-Import Bank of China.
The prime minister also revealed that the CCCC had began refunding 3.1 billion ringgit in advance payments it had received for the second phase of the project.
Mahathir's comments were his first on the fresh memorandum of understanding signed by both countries over the controversial rail link, which he had targeted before last May's election as among several unnecessary and expensive China-backed projects that needed to be axed.
His ruling coalition suspended work on the rail link - which will connect the port of Klang to peninsula Malaysia's rural east coast - soon after its victory over Najib in the polls.
Construction on the rail link suspended since last July is expected to resume as early as next month, according to Darwis Abdul Razak, chief executive of Malaysia Rail Link, the state-owned firm that is in charge of the rail project.
Mahathir said in the press conference that Malaysia had been liable to pay 21.78 billion ringgit in cancellation fees "with nothing to show for it" if it unilaterally decided to pull out of the 2016 deal.
Because of that, the government decided to go back to the negotiation table, he said.
His long-time confidante Daim Zainuddin, a former finance minister during Mahathir's 1981-2003 stint in power, spearheaded the months-long talks.
While the agreement signed last week was solely to do with the rail link, Mahathir suggested there would be a quid pro quo in terms of additional palm oil purchases from China following the resumption of the project.
Chinese analysts say the deal's resumption was a top priority for Beijing because of its billing as a cornerstone of President Xi Jinping's "Belt and Road Initiative".
It is "not directly related but we are taking advantage of the signing of the agreement to work out purchase of palm oil from China. That will happen," Mahathir said.
Malaysia and neighbouring Indonesia, the world's two biggest palm oil producers, have come under intense pressure following the European Union's decision to stop considering the commodity a biofuel.
In recent weeks, with growing talk that Daim was poised to wrap up talks over the ECRL, many observers had suggested his deal would include Chinese guarantees of additional palm oil purchases.
In March, the Malaysian government revealed Beijing had agreed to bump up its palm oil purchase by 50 per cent to around 4.7 million tonnes.
At the press conference, Mahathir was also asked if the fresh accord involved Chinese co-operation in ongoing efforts to extradite the fugitive Malaysian businessman Jho Low, who is wanted by Singapore and Malaysia for his alleged role in the 1MDB financial scandal.
Some reports have said Low is currently based in China.
"It has nothing to do with Mr Jho Low, but of course, we will seek the help of the Chinese government if he is at all in China," Mahathir said.
Najib is currently on trial for his links to the multibillion-dollar losses at the state fund.
Low - who maintains he is innocent - has said he will not return to Malaysia to face the charges as he has no faith in the Malaysian justice system under Mahathir.
This article was first published in South China Morning Post.