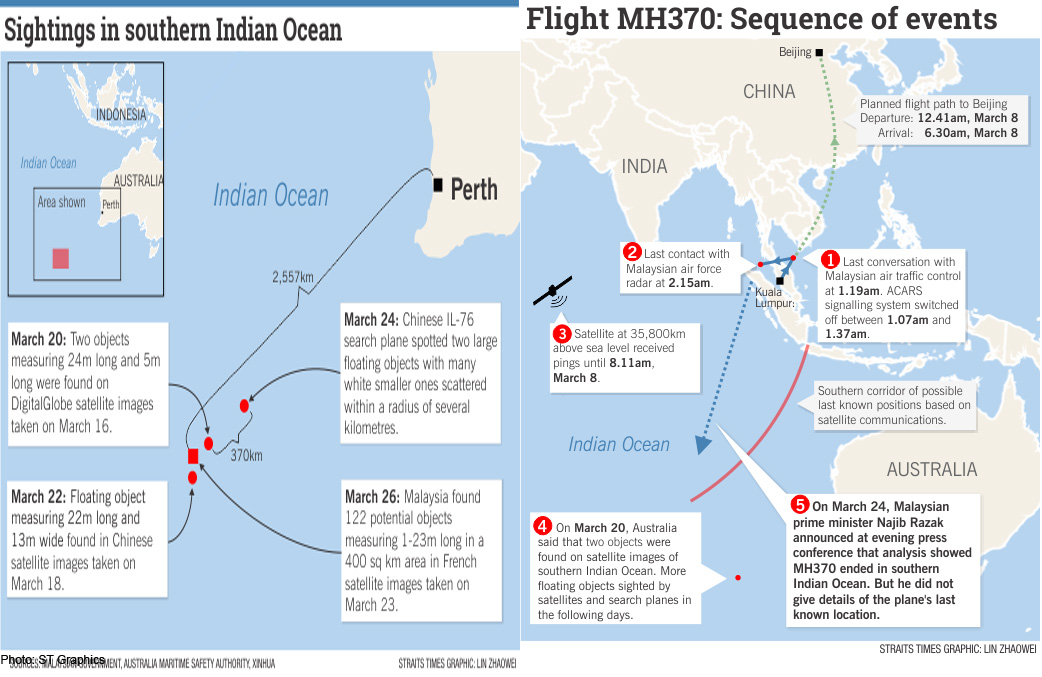 KUALA LUMPUR - The Malaysia Airlines crash investigation is shaping up as the most challenging in history due to jurisdictional tangles and a lack of evidence so far, and any answers could take years to emerge.
Malaysia has little experience in aviation probes, let alone one as perplexing as the case of flight MH370, which is presumed to have crashed far from Malaysian shores somewhere in the vast and inhospitable southern Indian Ocean.
Authorities still have no idea what caused the plane to inexplicably divert from its Kuala Lumpur-Beijing course on March 8 with 239 people aboard, and chances of finding revealing amounts of wreckage or the all-important "black box" are considered slim.
"What we have at hand is an aviation disaster far beyond the ones we read about in the textbooks, and Malaysia will find itself overwhelmed if it decides to run the investigation on its own," said independent aviation analyst Gerry Soejatman.
Since the plane is believed to have crashed in international waters, Malaysia - as the aircraft's country of registry - would lead investigations, according to international rules.
It can, however, delegate authority to other parties.
Australia is considered a key player, as any floating debris that is found will likely be taken to the west-coast city of Perth, the staging ground for an ongoing international search.
The US National Transportation Safety Board (NTSB) and Britain's Air Accidents Investigation Branch (AAIB) will also likely play a role, as the aircraft was manufactured by US-based Boeing and used engines made by UK-based Rolls-Royce.
China, which has expressed exasperation with Malaysia's inability to provide answers in the tragedy, has also pressed for its own experts to be included. Two-thirds of the passengers were Chinese nationals.
"The problem for Malaysia is that it could start looking like a spectator if all these parties came on board," Soejatman said, adding that Beijing's involvement "could be very tricky for Malaysia" due to the tensions over the case.
The investigation's make-up has yet to be clearly defined.
But the track record for multi-party probes in complex crashes is mixed, with competing interests often obscuring conclusions.
In the 1997 crash in Indonesia of a Singaporean SilkAir jet, the NTSB ruled it a rare case of pilot suicide.
Singaporean authorities were not directly involved in the crash probe, but police in the city-state investigated the suicide claims and insisted they had no basis. All 104 aboard died.
The NTSB found that the co-pilot of EgyptAir Flight 990, which went down in the Atlantic in 1999, killing all 217 aboard, deliberately crashed the plane when the captain went on a break. Egyptian authorities, however, rejected that explanation.
"Disputes do occur in complicated crash investigations where the cause of the crash is not immediately apparent, and Malaysia will have to deal with these hurdles," said Paul Yap, an aviation lecturer at Temasek Polytechnic in Singapore.
The conclusions of American and Spanish investigators also differed from those of Dutch authorities in the horrific 1977 collision in the Canary Islands between two Boeing 747s flown by KLM and Pan Am which killed 583 people, aviation's deadliest-ever disaster.
Malaysia has indicated it will retain overall control, but its authoritarian government has a poor record on transparency, typically sweeping corruption scandals or other embarrassments under the rug.
It also is accused of propping up loss-making flag carrier Malaysia Airlines, raising questions about its impartiality.
But a multi-national, multi-agency probe is unavoidable due to flight 370's baffling complexity, said Robert Mann, a US-based aviation consultant.
Malaysia believes the jet was deliberately diverted and flown for hours to the middle of nowhere, crashing probably after it ran out of fuel.
But no evidence has emerged to support any of a number of theories on what happened, including hijacking, pilot suicide, or a mid-air event that incapacitated the flight crew.
"I see the expanded number of parties as essential in view of the complexity of issues," said Mann, who expects a "protracted investigation." MH370 has drawn frequent comparison to Air France flight 447, which crashed in the Atlantic in 2009, killing all 228 aboard.
In that case investigators knew roughly where to look, and debris was found five days later, yet it still took two years to retrieve the black box. Eventually, a combination of mechanical problems and pilot error were blamed.
Jean-Paul Troadec, who led that probe, said MH370 is far more challenging.
"As in Air France 447, we knew that the aircraft was limited to the area in the Atlantic, so the situation is different here," he told AFP in Kuala Lumpur last week.
A long investigation will delay emotional closure for families, prevent the industry from learning from the crash, and hold back lawsuits against the airline, experts said.
"I hope Malaysian authorities welcome the participation of subject-matter experts including those from nations whose citizens and families appear to have borne the brunt of the human loss," Mann said.