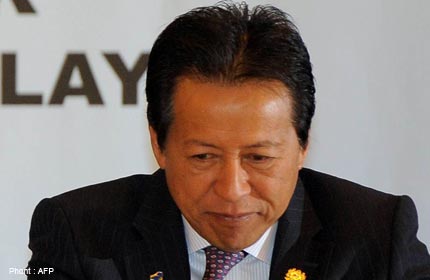 KUALA LUMPUR - Malaysia will not meddle in the conflict between elements of the Moro National Liberation Front and Philippine security forces in Zamboanga, southern Philippines.
Foreign Affairs Minister Datuk Anifah Aman said Malaysia was confident that Manila would restore peace in the affected area.
"Malaysia respects the ASEAN principles and spirit not to interfere in the internal affairs of other ASEAN states," he said yesterday.
Anifah said the ministry had instructed the Malaysian embassy in Manila and consulate in Davao City to provide help to Malaysians affected by the conflict, including bringing them back home, if necessary.
He said diplomatic representatives were in touch with a Malaysian who was safe in Zamboanga. There are no other Malaysians in the area.
Anifah called on Malaysians to postpone trips to Zamboanga until the situation returned to normal.
The Eastern Sabah Security Command (Esscom) has tightened security in Sabah waters bordering the Philippines.
"As facilitator to the peace process between the Philippine government and Moro Islamic Liberation Front (MILF), Malaysia is committed to resolve the southern Philippine conflict in a peaceful manner that will benefit all, in particular Filipinos in Mindanao. Malaysia is confident that Manila and MILF will continue working towards long-lasting peace, stability and prosperity in southern Philippines."
In Kota Kinabalu, security forces will not leave anything to chance in securing the nation's border, said director-general of Esscom, Datuk Mohammad Mentek, adding that no one would be spared if he was found without valid documents in Malaysian waters or soil.
"If they on our side of the border illegally, they will be stopped."
Mohammad said Esscom, along with security forces, were on full alert after the attack.
"Our men have been stationed in strategic outposts. We are also maintaining a strong presence in sea routes between the two countries."
Mohammad said claims by Philippines media of 4,000 Sulu followers living in Sabah and Sarawak were baseless.
A senior military official from the Philippines had said that if there were to be any spillover into Sabah, it would probably comprise of civilians and not MNLF followers.
"Some of those in the south have families in Sabah and might seek refuge there. Some might also try to flee to Sabah and wait for things to calm down before returning.
Deputy Home Minister Datuk Dr Wan Junaidi Tuanku Jaafar said that more Malaysian Civil Defence Department personnel would be deployed to Sabah and Sarawak to tighten security.