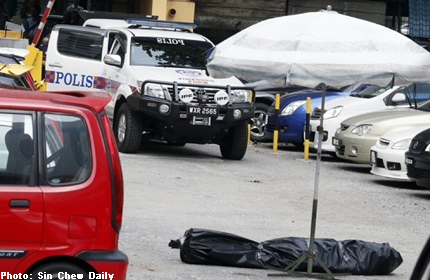 Death is cheap in Malaysia, it seems.
All it takes to hire a hitman across the Causeway is RM$5,000, or about S$2,000.
A Kuala Lumpur-based private investigator (PI), who wanted to be known only as Mr Jay, 45, told The New Paper on Tuesday that it did not cost much to hire an assassin in Malaysia.
The founder of Jay Private Investigation and Veritas Security Force said: "Almost anybody can afford to hire a hitman. Not only the rich can hire contract killers now."
Another Malaysian PI, Mr Wan Zairi Afhtar Ishak, 38, of My Private Eye Consulting, shared the sentiment. The PI, who was with the Malaysian police for six years, including the Criminal Investigation Department, said: "When I was an officer, around 2006, it cost only a few thousand ringgit to hire a hitman. That's what I heard during the course of my work."
On Monday, a gunman killed Arab Malaysian Banking Group founder Hussain Ahmad Najadi, 75, in Kuala Lumpur. His wife, 49, was injured.
Two days before that, a gunman shot and critically injured Malaysian Crime Watch Taskforce chairman R. Sri Sanjeevan, 29. The drive-by murder attempt happened at a traffic light junction in Negeri Sembilan at about 4.30pm.
These are just two cases of gun-related attacks in Malaysia in recent months.
Following these incidents, Malaysian Prime Minister Najib Tun Razak instructed the police to use all existing laws to fight serious and organised crime. He said on Tuesday: "The police must take immediate action to restore public confidence and the government will provide whatever is necessary for them to enhance their capacity to fight serious and organised crimes."
However, Malaysia's Home Minister, Dr Ahmad Zahid Hamidi, said the police should not be blamed for the recent spate of shootings. He told reporters on Tuesday that they face a shortage in manpower and equipment compared to developed countries.
'Normal' people getting shot
"For example, in New York, a policeman serves 35 residents while a policeman in Malaysia serves 700 residents," he said.
Mr Jay, a PI of 15 years, said the victims of gun-related hits are usually wealthy or high-profile individuals. He said: "But recently, I noticed that even 'normal' people like teachers have been shot. These victims have been targeted by people who want them dead.
"I can think of few reasons - business rivalry, outstanding payments and, of course, vengeance."
Mr Jay also said weapons of choice are usually small handguns that can be easily concealed or smuggled into the country.
"Guns can enter Malaysia quite easily. It has a very long coastline so they can enter by sea from neighbouring countries. They can also be smuggled by land via Thailand," he said.
Both private investigators said the 2011 abolition of Malaysia's Emergency Ordinance (EO) could have contributed to the spate of gun-related attacks.
The EO was one of several laws allowing detention without trial that were repealed by Mr Najib as part of his political reforms. More than 2,500 people were released from prison after the repeal, many of them hardened criminals.
Said Mr Wan Zairi Afhtar: "There are now more criminals on the streets of Malaysia after the EO was abolished. Some of these people are hardcore criminals and they often go back to their old ways."
There are calls to replace the EO with new laws.
In light of the spate of shooting incidents, TNP asked some Singaporeans if they have concerns about travelling to Malaysia.
Software engineer Aaron Teo, 33, who works in Kuala Lumpur and returns here during the weekends, said violent crimes there are commonplace. He said: "Three of my colleagues have been robbed before, but those were at knifepoint. Knowing that guns are increasingly being used means I have to be more cautious, especially when I am out at night."
Mr Teo added that his company may consider relocating to Singapore if the situation worsens.
The recent shootings also forced Mr James Soh, 24, to reconsider his travel plans to Malacca with his girlfriend this weekend. He said: "I didn't think it was cause for concern at first but as more reports surfaced, I got quite worried about our safety."
However, other travellers, like undergraduate Ken Chin, remain unfazed.
"To travel outside of Singapore, you have to accept that these kind of things happen," said the 22-year-old, who is planning to travel there alone. "It's just a risk you have to take to see the world."
While most travellers interviewed had concerns about personal safety, travel agents and coach operators said their business has not been affected.
Ms Susan Ng, 53, manager at Sri Maju Tours and Travels, said there was no appreciable decrease in the number of bookings as it is now the low season.
A Chan Brothers travel agency spokesman concurred, adding that it will keep monitoring the situation closely.
Mr Jay assured Singaporeans that they need not fear being shot in Malaysia. He said: "These recent cases are not random shootings. People have paid hitmen to kill these people. Come to Malaysia. There is nothing to fear."

Get The New Paper for more stories.