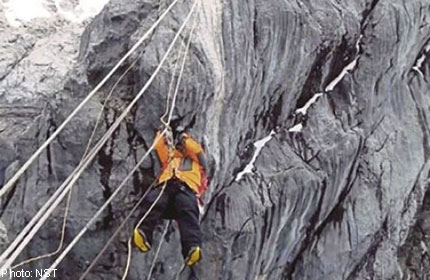 PUTRAJAYA - MALAYSIAN climber Muhamad Muqharabbin Mokhtarruddin created history when he scaled Carstensz Pyramid, the highest peak in Oceania, on Sunday.
Avid mountaineer Muhamad Muqharabbin Mokhtarruddin became the first Malaysian to scale all the highest summits in all seven continents of the world.
Muqharabbin, the Seven Continents Exploration Club (KE7B) president, who is also fondly known as Qobin, said he that managed to ascend the summit at 12.50pm after more than seven hours of challenging climbing.
Carstensz Pyramid, located in the Indonesian half of Papua, is 4,884m above sea level.
"The weather was good. We had to endure a snowy and rocky technical climb."
Muqharabbin said 95 per cent of the climb from as high as 600m from the main base camp was using wet ropes due to bad weather a few days before their ascent to the summit.
Muqharabbin said he was thrilled to have successfully completed the climb as he had failed twice before -- in August 2011 and March 2012.
This was due to visa, permit and bureaucracy issues.
"The challenge I faced during the climb was having to scale the summit ridge, where the rocks were sometimes at an 80oangle. Not only that, I also had to cross to an area called the Step Jump, where my steps had to be as wide as 2m," said Muqharabbin, when contacted via phone.
He said he had to cross a 25m gap with a 500m drop via Tyrolean Traverse (a type of cable) and he had to pull his body across whilst hanging upside down.
Muqharabbin was the youngest Southeast Asian to conquer Mount Everest, Nepal, in 2004, ascended Mount Kilimanjaro (Africa) in 2010, Mount Aconcagua (Argentina) and Mount Vinson (Antarctica) in 2011, as well as Mount McKinley and Mount Elbrus (Russia) (2012) during his Seven Peaks, Seven Continents, Seven Values Expedition.
Muqharabbin is to return home tomorrow.