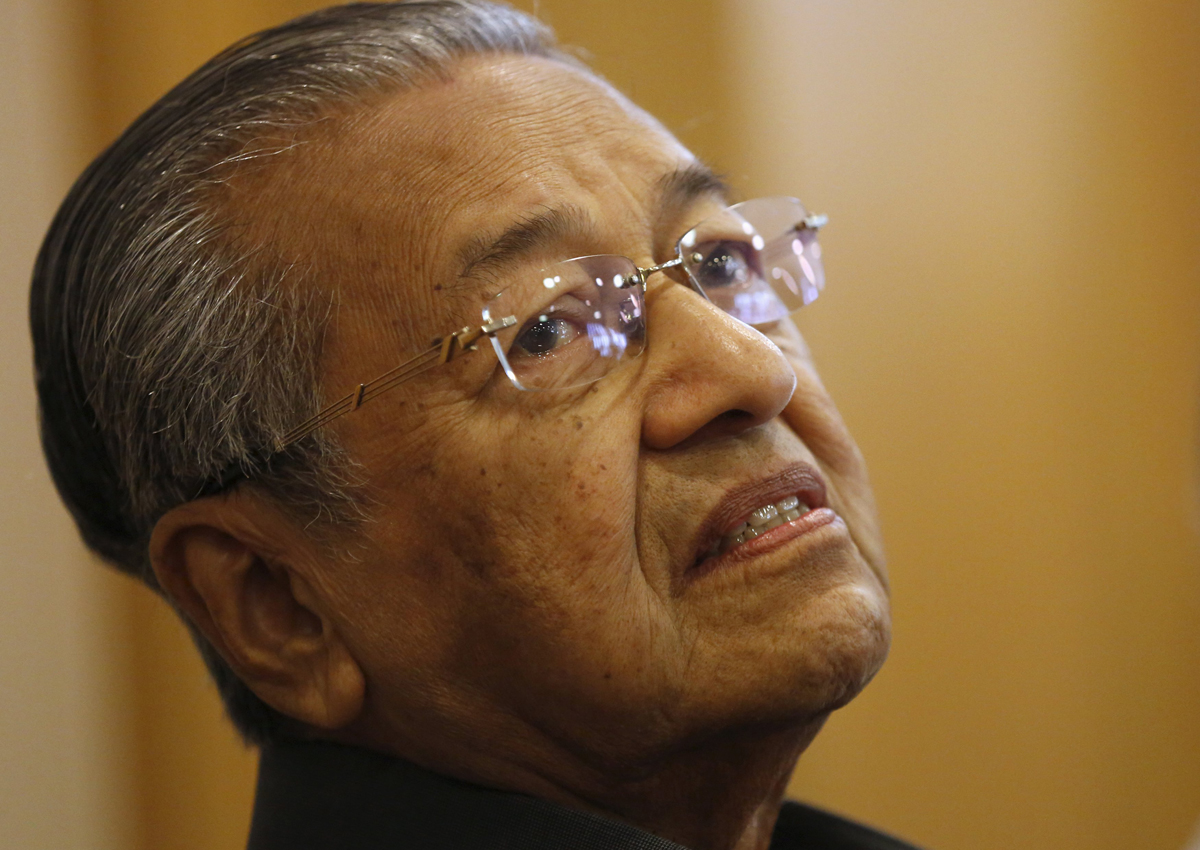 GEORGE TOWN, MALAYSIA - Former Malaysian leader Mahathir Mohamad is under investigation for defaming the attorney-general in blog posts criticising his failure to bring corruption charges against Prime Minister Najib Razak, police said on Monday.
The feud between Malaysia's past and current leaders has gripped the Southeast Asian nation for almost a year, with Mahathir repeatedly calling on Najib, his former protege, to step down over a financial scandal at indebted state-fund 1Malaysia Development Berhad (1MDB).
In a Feb. 5 posting on his personal blog, Mahathir wrote attorney-general Mohamad Apandi Ali had "no credibility", after he cleared Najib of any criminal offences or corruption arising from a graft probe into a $681 million deposit in Najib's personal bank account.
Najib replaced the previous attorney-general and appointed Apandi just weeks after a Wall Street Journal report on 1MDB revealed the deposits of vast sums in Najib's account.
Apandi closed investigations into Najib earlier this month after concluding that the money was gifted by a member of the Saudi royal family, and most of it had been returned.
Inspector-General of Police Khalid Abu Bakar said several police reports had been lodged against Mahathir over his attack on Apandi. "We will investigate according to the proper legal procedures. If there is a case to be made, we will discuss it with the attorney-general's chambers and take further action if needed," Khalid said at a press conference in George Town, the main city in Penang state.
Mahathir on Monday used his blog account to issue his own challenge to Apandi. "As a good Muslim he should swear on the Koran in a mosque witnessed by mosque officials and the public that the reports did not implicate Najib in any way," wrote Mahathir. "He should not try to cheat by vowing in his heart something else, and swearing aloud something else. That would be a double sin. He will go to a worse hell." In several earlier blog posts, Mahathir had accused Apandi of protecting Najib and expressed doubts about Apandi's willingness to cooperate with his counterpart in a Swiss investigation into 1MDB.
To shore up his position, Najib has silenced dissenters within his party, in the opposition and the government. Aside from replacing the attorney-general, he also sacked his deputy prime minister, Muhyiddin Yassin, last year.
Earlier this month Najib loyalists within the United Malays National Organisation (UMNO) forced Mahathir's son, Mukhriz Mahathir, to quit as chief minister of the northern state of Kedah.
Mahathir was also questioned by the police in November after he made a surprise appearance at an anti-government rally in Kuala Lumpur and called for Najib to resign. But no action has been taken so far.