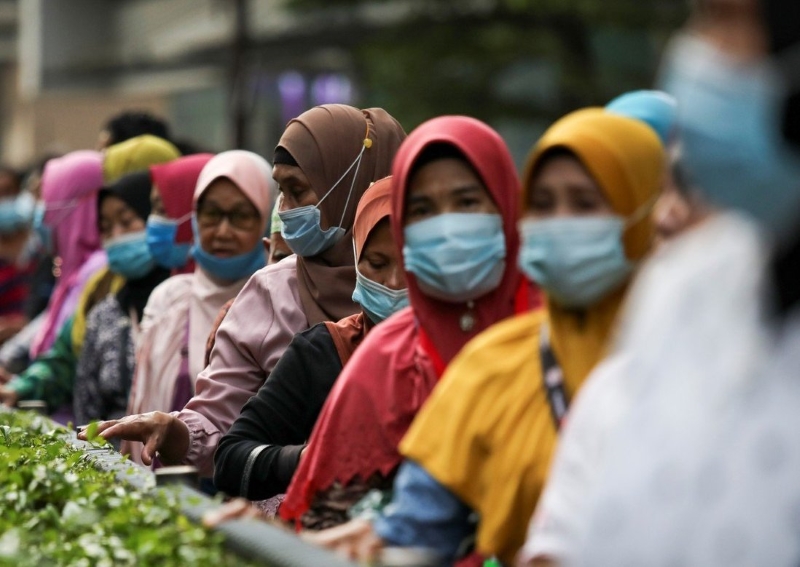 Women and children have been hardest-hit by coronavirus restrictions in Malaysia, experts say, with domestic violence and calls to abortion helplines both increasing during lockdown.
Women's groups reported a threefold increase in distress calls over the past year, while a reproductive rights group said calls from women seeking access to safe abortions increased nearly 50 per cent over 2020 compared to 2019.
The Women's Aid Organisation reported a 150 per cent increase in calls to its hotline and an 80 per cent increase in messages to its WhatsApp distress channel from the same period last year.
Traffic disruptions caused by lockdown were also a problem, while the Women's Centre for Change in Penang said in one case a woman had been forced to walk for two hours to the closest police station for help because public transport had been shut down.
Meanwhile a recent report by the Reproductive Rights Advocacy Alliance of Malaysia (RRAAM) found clinics had reported a 50 per cent drop in the number of patients while its hotline observed a 48 per cent increase in the number of requests for safe abortion services.
The survey also found that roadblocks and traffic congestion had caused delays for women in labour, and that outpatients had avoided attending clinics because they were scared of being arrested for leaving their homes.
Researchers said these findings showed gaps in the pandemic response readiness of the government and questioned whether vulnerable members of society were getting enough support.
"Some have argued that the months-long movement control order that began in March and its various subsequent iterations are a necessary strategy to curb Covid-19 but at the same time are we also ensuring adequate support for people who experience some of the unintended consequences of the lockdown? When it comes to domestic violence, for example, the government is asking people to stay at home, but what happens when home isn't safe either?" asked Nazihah Noor, a researcher at Khazanah Research Institute.
Although the government has expressed concern over the rise in domestic violence, allocating 21 million ringgit (S$6.9 million) to local social support centres and short-term social workers, aid workers caution these funds need to be effectively implemented and have called for more resources for other services, such as crisis hotlines, too.
Meanwhile, economists say Malaysia's efforts to fight the pandemic – the country has recorded more than 76,000 cases so far – has disproportionately affected women and young people, despite women making up only 39 per cent of the workforce.
"Women made up nearly two out of three of the total employment declines in the second quarter of 2020. Younger women were especially vulnerable, experiencing an average rate of employment decline about 5.6 times higher than the overall decline in employment," said Calvin Cheng, an analyst with the Institute of Strategic and International Studies' Economics, Trade and Regional Integration unit.
Structural inequities were a driving factor in these figures, he added, pointing out that industries worst-hit by the coronavirus, such as food services and accommodation, had a high concentration of women workers. On top of this, the burden of unpaid care work had increased during the lockdown as schools shut.
"This increase in unpaid care responsibilities, compounded by long-standing inequities in the labour market [like the gender pay gap and systemic discrimination in the workplace] have played an important role in contributing to both women's disproportionate share of employment declines as well as higher workforce exits," said Cheng.
Discriminatory public policies and practices had added to the impact, said the National Human Rights Institute (Suhakam) in a policy brief, reporting that the nation's Social Welfare Department had issued 17 emergency protection orders for domestic violence cases over the March-to-May lockdown period compared to 19 over the entirety of 2019.
"Domestic workers, who are predominantly migrant women, were also at risk of violence during the [nationwide lockdown]. Due to the travel and mobility restrictions, live-in domestic workers were faced with increased workloads while having to stay indoors throughout the day with their employers, who already have a track record of abuse," said the report.
The report also revealed Suhakam had heard of a group of pregnant migrant women unable to access health care who were on the verge of selling their babies before the agency intervened to allow them to give birth at reduced rates at public hospitals.
Government bodies such as Suhakam as well as non-governmental organisations have had to think of creative ways to reach out to women and children. The Women's Aid Organisation launched Girls TakeOver, a online channel that provides a safe space for girls to speak out.
"Before this, I didn't know anything about domestic abuse at all. Ever since the start of the movement control order in March, I noticed that the news about domestic violence was spread very widely all over social media and the news," said Michelle, 15, a representative from Girls Take Over.
"Survivors sometimes return to the abusers because of various reasons. One is that there is a lack of support from friends and family as well as law enforcement. Not only that, societal factors that teach women to believe their identities and feelings of self-worth are contingent upon getting and keeping a man make the survivors return to their abusers," she said.
She added that there wasn't "enough help" for children in domestic violence situations.
"No one deserves to be treated this way, especially young girls."
Long-term consequences would have to be considered when formulating anti-pandemic measures even after vaccines were available, said Khazanah Research Institute analyst Nazihah.
"Too often when we discuss the costs of the lockdown measures, we only focus on job losses and the effect on GDP. This is perhaps quite a myopic view, which underscores why it's so important we have more inclusive representation at the high-level decision-making process. If we had more women in key national decision-making bodies, perhaps some of the issues like domestic abuse and the mental health of working mothers would be taken into consideration more in our response to the pandemic."
For the latest updates on the coronavirus, visit here.
This article was first published in South China Morning Post.