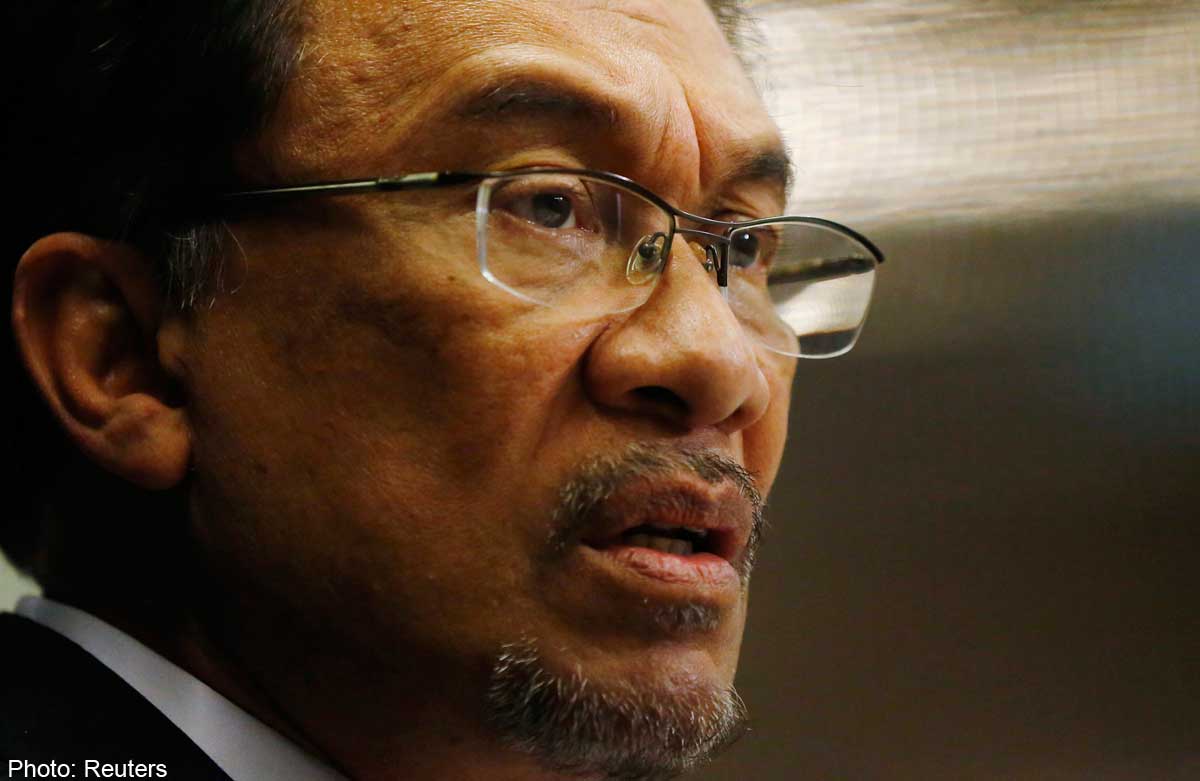 KUALA LUMPUR - Opposition leader Anwar Ibrahim's sodomy conviction is the latest dramatic setback for the charismatic figure who has been jailed three times in a turbulent career that has profoundly changed Malaysian politics.
Anwar's political triumphs and legal tribulations have riveted and appalled Malaysians since the 1990s, when he soared to the top echelons of national power and then fell spectacularly in a power struggle, only to rise again at the head of a history-making opposition.
But his hopes of leading Malaysia's first-ever change of government since the nation gained independence in 1957 suffered a severe blow on Tuesday.
The country's top court upheld a controversial conviction and five-year sentence on charges of sodomising a young male aide, a ruling that could mark the end of Anwar's career in active politics.
Now 67, Anwar would be 72 when he is released. The conviction also officially bars him from taking part in the next polls expected by 2018.
"Going to jail, I consider a sacrifice that I make for the people of this country," he said in a statement after the ruling.
"I have fought most of my life on behalf of the people of this country - for the people, I am willing to go to jail or face any other consequence." Anwar's place in Malaysia's political history is already assured through his leadership of an opposition bloc that, for the first time, has posed a real challenge to a government accused of cronyism and authoritarian rule.
Political chameleon
 In his four-decade career, Anwar has changed his political colours with the readiness of a chameleon in an ambitious pursuit of leadership in the multi-ethnic, Muslim-majority country.
He first rose to prominence in the 1970s as a radical Islamic student leader, taking part in protests over rural hunger that earned the first of his three jailings by Malaysia's authoritarian regime. He was held for 20 months under a draconian security law.
But he later shocked many associates by joining the ruling United Malays National Organisation (UMNO), and eventually caught the eye of tough former leader Mahathir Mohamad, who dominated politics from 1981 to 2003.
A gifted natural politician and witty orator, Anwar rose quickly, heading various ministries including the finance portfolio starting in 1991, while re-inventing himself as a reformist who was praised in the West.
Two years later, his ascension to deputy prime minister all but anointed him Malaysia's future leader.
But differences with Mahathir over how to respond to the 1998 Asian financial crisis escalated into a bitter rift as Anwar's call for reform and an end to UMNO corruption and nepotism enraged his boss.
Anwar was seen to have misplayed his hand, underestimating Mahathir, and he was sacked and charged with corruption and sodomy.
In a drama that earned worldwide scorn, Anwar was brought into court with a black eye after a beating from the country's police chief.
The bruising fall from grace was widely seen both at home and abroad as politically motivated, and triggered unprecedented protests in a country where dissent was suppressed.
Jailed for six years, Anwar says he was kept in solitary confinement, singing 1960s pop tunes to stay sane and reading anything he could get, including the Quran, the Bible, and Shakespeare.
Released in poor health in 2004 when the sodomy charge was overturned, Anwar spent a few years recuperating and working as an academic.
But he eventually joined the anti-government movement which was energised by his ordeal, and used his star power to unite a formerly divided and cowed opposition.
The three-party alliance has capitalised on rising anger over corruption and UMNO's oppressive tactics to shock the regime in recent elections, winning 52 per cent of the popular vote in 2013 elections.
It failed, however, to take parliament due to the government's practice of gerrymandering - the strategic shifting of electoral borders.
Strange bedfellows
Anwar's Pakatan Rakyat (People's Pact) opposition coalition brings together strange bedfellows - an ethnic Chinese pro-democracy party, the conservative Islamic PAS, and Anwar's racially diverse party.
With his broad appeal across Malaysia's various ethnic communities, Anwar has long been considered the glue holding together an unlikely alliance, and his removal is a cause of deep concern in the movement.
But Anwar's image as an indispensable unifier has suffered lately, while some have expressed concern that the recurring sodomy accusations - which he vehemently denies - have saddled him with too much political baggage.
Pakatan is riven by widening divisions, particularly the Islamic party's calls for harsh sharia laws in a state it controls, which is sharply opposed by its alliance partners.
However, some observers Anwar's return to jail could once again make him a martyr who could spur the opposition to finally take power - even with its figurehead behind bars.