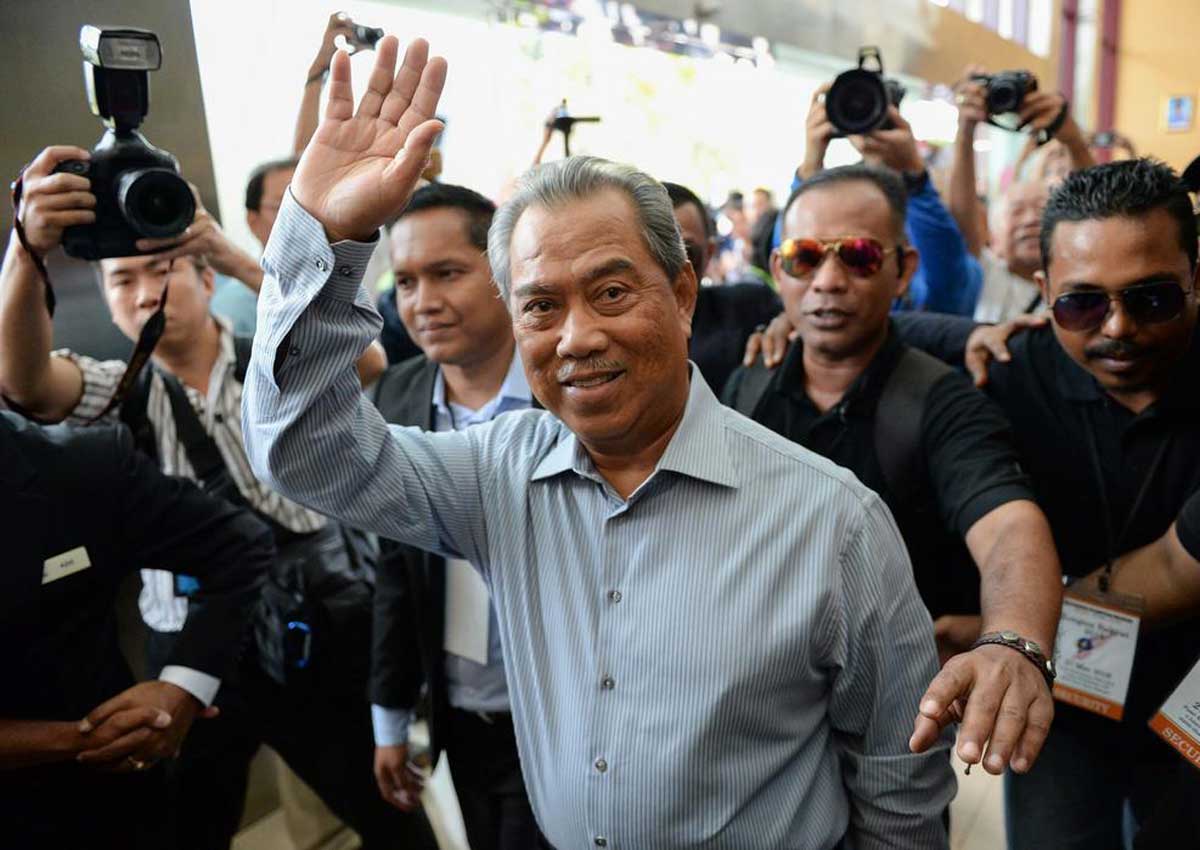 KUALA LUMPUR- The party that has ruled Malaysia since 1959 will lose the next election if it stands by Prime Minister Najib Razak, a former deputy premier said on Wednesday, nine months after he was sacked for speaking out over a multi-billion dollar scandal.
Muhyiddin Yassin said in an interview that from 2014 he had repeatedly raised concerns with Najib about the debts of state fund 1Malaysia Development Bhd (1MDB) as allegations of mismanagement and corruption mounted. He said his protests were always rebuffed.
In mid-2015, following reports that US$681 million (S$912 million) had been deposited in the prime minister's personal bank account, Muhyiddin publicly demanded that Najib explain how the money ended up there. Muhyiddin said he was promptly dismissed for that.
Najib's office rejected Muhyiddin's explanation for his dismissal, saying he was replaced because "he failed in his duties and contravened the concept of collective responsibility that is the foundation of cabinet government."
Muhyiddin said popular trust in the prime minister has evaporated because of the scandal. Najib, he said, will ruin the chances of the United Malays National Organisation (UMNO) in a general election due by 2018 if he refuses to stand down.
"I may be looked on as a dissident but ... I'm here to warn and caution the UMNO leadership, to say if you don't remove him, he is a liability and you are going to lose the next election,"said the 68-year-old Muhyiddin, who managed state-owned companies, ran the state of Johor and has had a series of cabinet positions. "Things are getting worse and you've got to change this guy," he said.
UMNO leads a multi-ethnic coalition that has ruled the Southeast Asian nation since independence six decades ago.
SAUDI DONATION
Najib denies any wrongdoing. He has said the money in his account was a donation from Saudi Arabia, did not come from 1Malaysia Development Berhad (1MDB), and was not for personal gain.
The country's attorney-general in January cleared Najib of any criminal offences or corruption, and closed investigations into an affair that opponents had hoped would bring him down.
1MDB, whose advisory board is chaired by the prime minister, is nevertheless under investigation in at least five countries.
This month a Malaysian parliamentary panel slammed the fund's executive board for being irresponsible and called for a probe of its former chief, but stopped short of implicating Najib.
The prime minister's spokesman said in a statement to Reuters that Muhyiddin was dismissed because he "tried to instigate party members to unseat the prime minister based on allegations that have been proved false". "Politicians who live by the sword should not complain when they die by it," spokesman Tengku Sarifuddin Tengku Ahmad said.
Muhyiddin said that when he was sacked, Najib offered him a choice of two other plum jobs, the governorship of Penang, one of Malaysia's richest states, or the chairmanship of government-backed fund management company Permodalan Nasional Bhd (PNB).
But he turned them both down. "So I said 'I'm sorry, I'm not accepting it, I'm rejecting it ... I think it's a matter of principle. You can't buy me."
JOINED WITH MAHATHIR
After his ouster Muhyiddin took a small office in an exclusive leafy neighbourhood of Kuala Lumpur, where two Miro originals hang among other artworks, but he has kept a low profile and taken several vacations.
However, he has joined hands with Mahathir Mohamad, the country's longest-serving leader who was once Najib's patron and is now his sharpest critic. They have allied themselves with opposition parties to force Najib's ouster.
Leaders of UMNO are standing behind Najib, but Muhyiddin said this was out of "blind loyalty" or because they feared for their jobs if they did not.
"The problem now is that there is this so-called state of fear. Fear of the power, the authority and none other than the prime minister who is also the president of the party."
Muhyiddin said the prime minister kept his cabinet in the dark as debts mounted at 1MDB until 2014, when he sought to inject public money into the indebted fund.
He said the prime minister resisted his objections to propping up what appeared to him to be a "sovereign debt fund"rather than a sovereign wealth fund.
Muhyiddin said he cautioned the prime minister about his central role in 1MDB and at a cabinet meeting suggested he resign as chairman of the fund's advisory board. "Of course he did not accept my advice and he was not happy with it," he said.