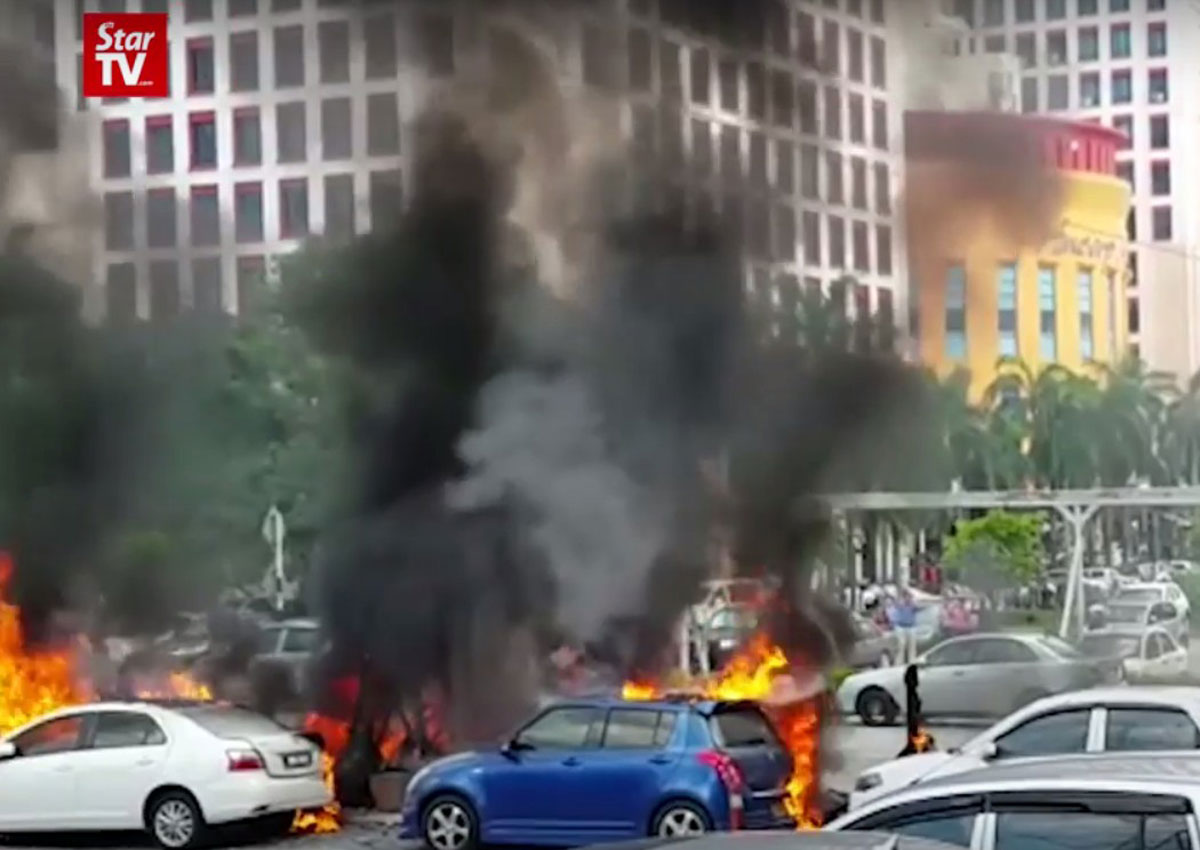 PETALING JAYA -  A despatch rider claimed trial in the Sessions Court to causing mischief by fire which left six vehicles ablaze at the Taman Jaya LRT carpark last Monday.
Budiman Shah Baharudin, 26, was charged with causing mischief by hurling a mineral water bottle containing petrol at a Proton Wira.
The charge under Section 435 of the Penal Code carries a maximum jail term of 14 years or fine if convicted.
Budiman was believed to have committed the offence on Jalan Persiaran Barat between 12.50pm and 1.15pm on Dec 21.
Apart from the Proton Wira, five other vehicles - a Proton Gen 2, Toyota Vios, Honda City, Suzuki Swift and Proton Saga FLX - were also damaged in the blaze.
Budiman's actions also caused damage to public property comprising a 30m long overhead pedestrian crossing, electric switchboard, concrete pole, concrete floor, advertisement board and a traffic light post, totalling RM449,600 (S$148,000).
A sudden internet frenzy also escalated among netizens who were speculating that the flames had come from a bomb explosion which was later denied by Inspector General Police Tan Sri Khalid Abu Bakar.
Firemen took about half an hour to put out the fire.
Budiman, who was going through a divorce, was arrested on the same day while he was loitering at the train station.
Deputy Public Prosecutor Shafiq Hasim said no bail should be granted for Budiman due to the seriousness of the offence.
Defence counsel Datuk Suraj Singh urged the court to grant bail since Budiman still lives with his parents who were also present at the court.
"There is no reason for the accused not to come to the court and he has never been charged before," said Suraj.
Judge Manira Mohd Nor granted RM10,000 bail in one surety and set Jan 27 for mention of the case.