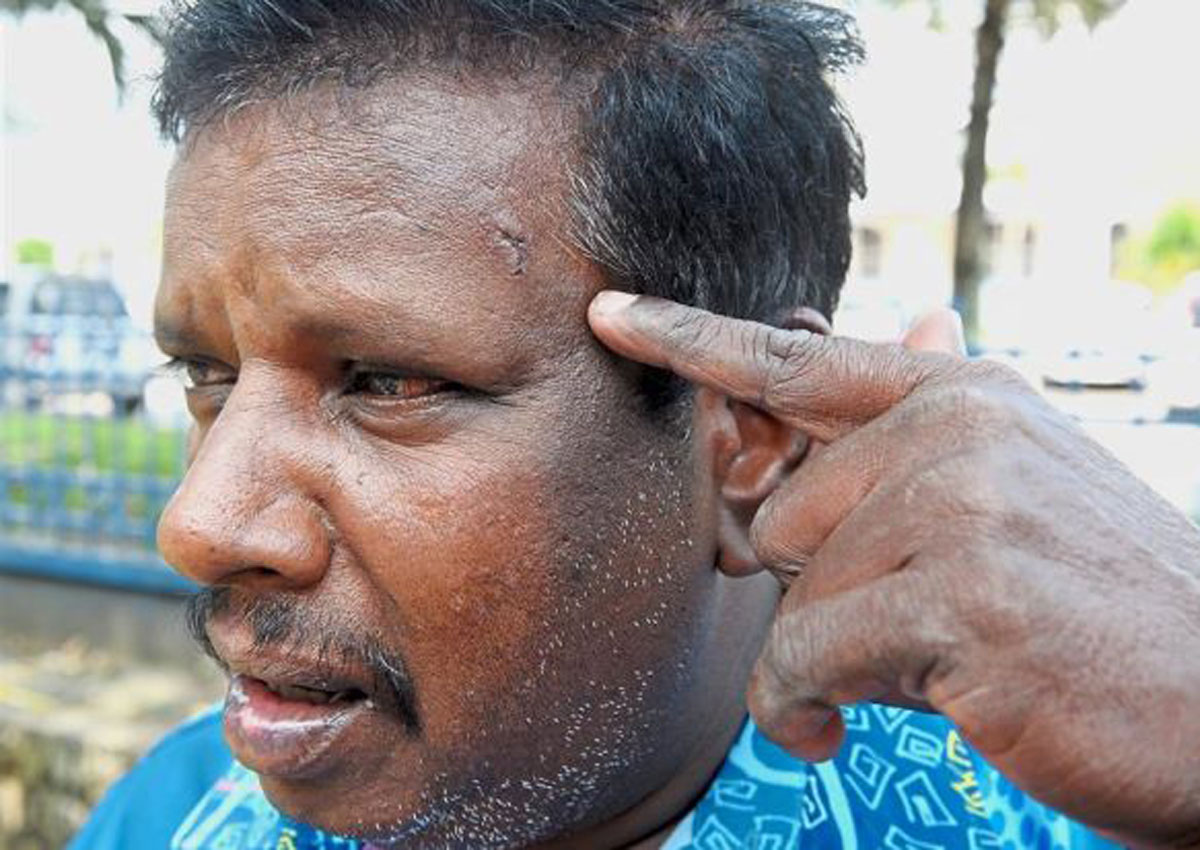 BUKIT MERTAJAM - A former Hindu Youth Organisation (HYO) deputy president has claimed that he was abducted and assaulted by three men and then taken on a terror ride.
P. Rajendran, 55, said he believed the incident was related to his criticism of the Penang Hindu Endowment Board over the introduction of the golden chariot procession for Thaipusam.
"I came to this conclusion after listening to the men's conversations in the car and at several places," he said after lodging a report at the Central Seberang Prai police district station here yesterday.
Last week, Rajendran posted an audio clip on WhatsApp where he warned board chairman Dr P. Ramasamy, who is Penang Deputy Chief Minister II, and two other board officials not to interfere with religious affairs and not to run down the chettiars.
The audio clip went viral, resulting in some people lambasting him through audio clips.
Relating his harrowing experience, Rajendran, who is also the former Penang HYO chairman, said he was waiting for his friend at a fast-food outlet in Permatang Pauh at 12.30pm on Tuesday when three men approached him.
"They assaulted me and dragged me into a car. They took me to the Seberang Prai Municipal Council headquarters in Bandar Perda.
"Along the way, they assaulted me again and warned me not to talk bad about a senior DAP leader and the golden chariot," he claimed.
Rajendran said he was made to sit on a bench at the council where a drama was staged as if he was being assaulted for cheating some people. He also claimed that the men took a video clip of him.
He said the three then took him to a shopping complex in Bukit Mertajam where he was allegedly assaulted at a carpark and then at a fast food outlet.
He said the suspects then used another car to take him somewhere else, but he managed to jump out of the vehicle near Taman Bayu Mutiara in Bukit Tengah.
"They chased me, but I managed to escape. I called a friend and he took me to the Bukit Mertajam Hospital where I was admitted for observation," said Rajendran who claimed that he was beaten on the head, neck and shoulder and was stepped on several times.
Rajendran said he had lodged a police report before the attack after receiving threatening WhatsApp audio clips following his outburst.
When asked for his comments, Dr Ramasamy said Rajendran was seeking publicity.
"If there is anything wrong with Hindus, I am being blamed for it just like how (Chief Minister) Lim Guan Eng gets blame for other things.
"Let the police investigate his allegations," he said.
Central Seberang Prai OCPD Asst Comm Nik Ros Azhan Nik Abdul Hamid said the police were investigating the case under the Penal Code for kidnapping or abducting with intent to wrongfully confine a person and also for voluntarily causing hurt to someone.