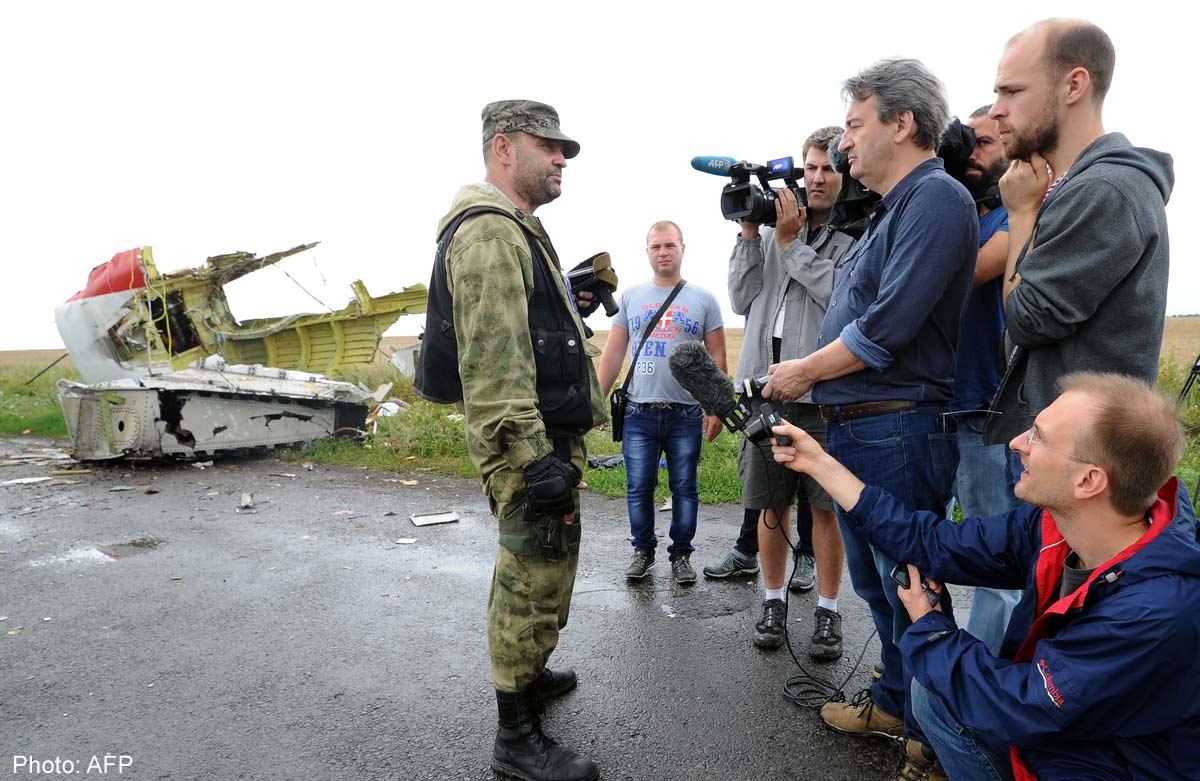 KIEV - Ukraine on Saturday accused Russia of helping separatist insurgents they say shot down Malaysian airliner MH17 try to destroy evidence at the crash site.
"The Ukrainian government officially announces: terrorists with the support of Russia are trying to destroy proof of this international crime," Ukraine's government said in a statement.
Pro-Moscow rebels had removed 38 bodies from the crash site to a morgue in the insurgent-controlled city of Donetsk where "specialists with clearly Russian accents" said they would conduct autopsies, the statement alleged.
Separatist forces were also blocking access to the site for Ukrainian investigators and international observers and searching for lorries to transport the wreckage to Russia, the statement claimed.
An AFP crew at the scene of the crash Saturday said that armed rebels were preventing journalists from accessing the site and shot in the air to warn them back.
One rebel commander said that dozens of bodies had been removed to the morgue in Donetsk as rescue workers under their supervision continued to collect body parts.
"27 bodies were taken away" this morning, the insurgent commander said, refusing to give his name.
A group of international observers from the Organisation for Security and Cooperation in Europe (OSCE) told AFP that they hoped to return to the crash scene Saturday afternoon after only being granted very limited access to the site by armed rebels a day earlier.
World leaders have called for unfettered access to the crash site to allow for a full investigation into Thursday's apparent shooting down of the jet, that killed all 298 people on board the flight from Amsterdam to Kuala Lumpur.
Investigators from the Netherlands and Malaysia have already jetted into Ukraine with the hope of heading out to scene of the crash.
Kiev said earlier Saturday that rebels had agreed with a trilateral group of mediators to set up a security zone around the site.
Ukrainian authorities have accused the rebels of shooting down the plane in a "terrorist act" and released a recording of what they claim is an intercepted call between a rebel commander and Russian intelligence agent discussing how they had hit the jet.
The rebels though allege Kiev's forces were responsible for downing the plane and Russia's defence ministry says it has evidence indicating that Ukrainian missile systems were active in the area.