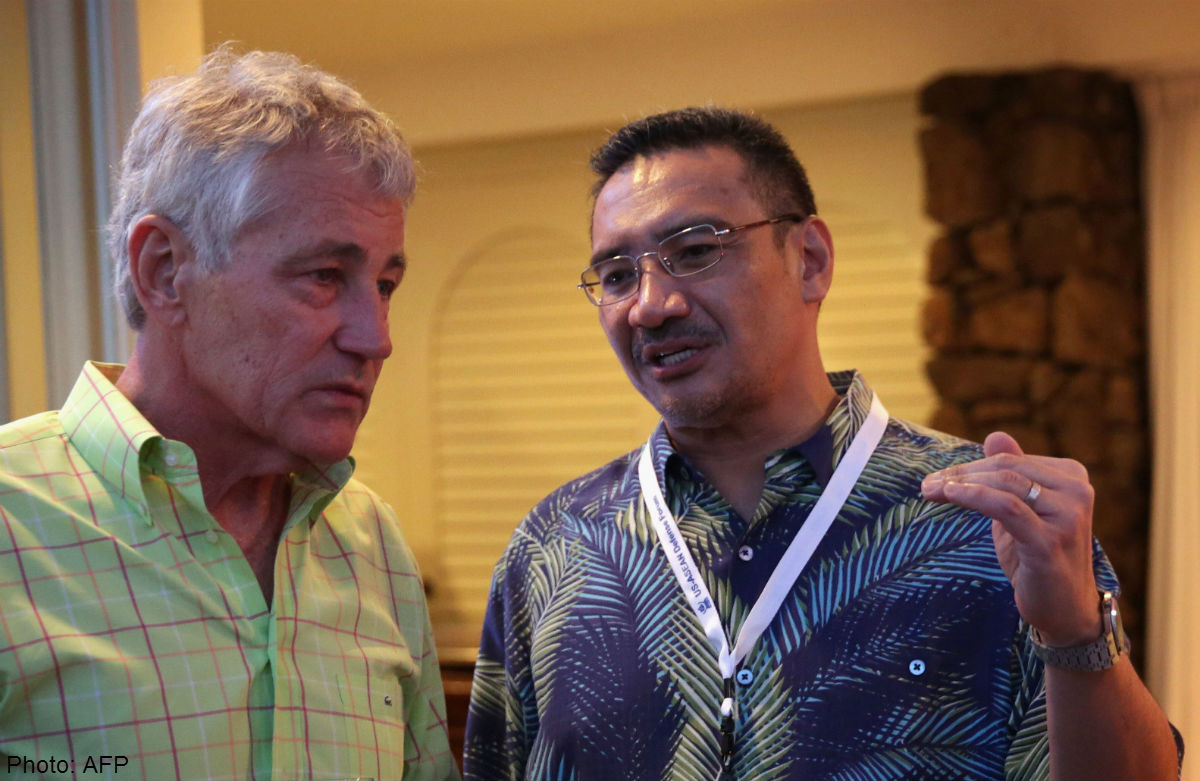 Being active on social media has caused a lot of embarrassment to Malaysia's Acting Transport Minister Hishammuddin Hussein.
The minister, who has been the face of the Malaysian government in the ongoing search for the missing Malaysia Airlines plane, was caught in an awful social media storm on Wednesday.
All Mr Hishammuddin did was agree with a tweet which said the disappearance of MH370 on March 8 was a "blessing in disguise", Australian newspaper Herald Sun reported.
Kuala Lumpur-based journalist Ismail Amsyar tweeted: "MH370 is a blessing in disguise for all of us. I understand now the beauty of unity, the sweetness of having each other."
Six minutes later, Mr Hishammuddin replied: "Right u are:)"
That opened up the floodgates with netizens expressing shock and dismay over the tweet, liberal news portal Malaysian Insider reported.
His followers on Twitter questioned the appropriateness of the tweet.
Alan Cook tweeted: "@HishammuddinH2O @IsmailAmsyar hmmmm not sure the families will be happy to hear that translate it so they can read your statement #mh370".
INSULTING
Reports said many suggested it was insulting to the families of the people on board the plane, which has been missing for almost a month.
Mr Hishammuddin has since deleted his tweet.
Mr Ismail, a Kuala Lumpur-based journalist with national news agency Bernama, had also deleted his original tweet and has since been trying to apologise, explain and defend his intention.
He tweeted yesterday morning that he is sorry "from the bottom of his heart" for his original tweet and claimed he got an online death threat, Australian reports said.
He also posted a series of tweets yesterday morning: "Some may look at it as insensitive and I apologise for that. I have given my explanation on that tweet & those explanation weren't (sic) count."
"I got what u all meant... but I'm not being insensitive or anything. I look at them as my family and i want them back. My apology (sic).
"I've been covering this issue since day 1. They are all my family, my Malaysian family & international family. If they hurt, so do I."
He also apologised to Mr Hishammuddin for "dragging him" into the controversy.
"I hereby apology (sic) for the tweet I sent yesterday on 'blessing in disguise' and @HishammuddinH2O should not be blamed."
Mr Hishammuddin has had to fend off criticism from the anguished families of passengers and also international media over claims that the authorities had been giving contradictory information and also withholding certain details.
Opposition lawmakers too were upset with the minister for failing to brief them on the aircraft's disappearance.
The flight disappeared off the radar while flying from Kuala Lumpur to Beijing more than three weeks ago with 227 passengers and a crew of 12.
The massive multinational search efforts have yet to yield any evidence of the plane, which is believed to have crashed in the southern Indian Ocean.
This article was published on April 4 in The New Paper.


Get The New Paper for more stories.