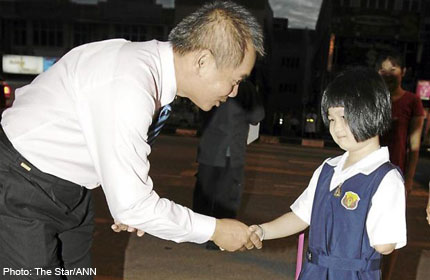 KLANG - Lai Yok Shan could not contain her excitement as she dressed herself in her school uniform for Year One.
"Six of my kindergarten friends are going to the same school and I am happy because I can play with them," she said at her house here yesterday.
She is attending classes at SJKC Tiong Hua Kok Bin in Meru near here.
Yok Shan's ability to dress herself and attend a regular school is yet another milestone for her.
The bubbly and talkative girl can only use her right hand after she lost her left arm from the elbow downwards after a medical mishap in July 2007, when she was born premature.
It was reported that a houseman at the Tengku Ampuan Rahimah Hospital in Klang had inserted a needle into her muscle instead of her vein while she lay fighting for her life in an incubator.
The arm turned black and fell off before it could be amputated soon after the incident.
"She has been coping very well and we are sure her disability will not hinder her from leading a regular life," her father Lai Kian Whee, 28, said.
Although his daughter has been registered as a disabled person, mechanic Lai and his wife Nut Tuemthong, 31, have trained and encouraged her to rise above adversity.
"She is able to do almost everything herself, except that she is having difficulty in washing herself. But we are sure she will soon be able to do that as well," said the proud father.
As she went through her school bag and pencil case to ensure she had everything she needed, Yok Shan said that she would study hard.
"I like art and mathematics," she said as she showed off her paintings that were put up in the living room by her mother.
The couple have another child, a 19-month-old son.
Yok Shan said she did not like the prosthetic limb provided by the Health Ministry.
"The fingers cannot move," she added.
According to Lai, Yok Shan wanted a prosthesis that had "fingers which could move" (bionic prosthesis).
"She refuses to use the normal prosthesis and told me that she will get one 'with fingers that can move' when she grows up," said Lai.