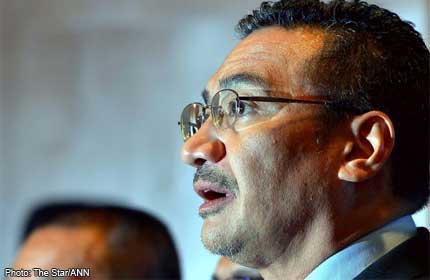 SEPANG - "Are you the cousin of Prime Minister Najib? Are you protected?"
This question by a French journalist stumped acting Transport Minister Datuk Seri Hishamuddin Hussein (pic) who has been facing many tough question during the media conference on the missing MH370 plane.
Bemused by the question, Hishammuddin asked her which media organisation she was from before answering.
"Yes I can confirm that Najib is my cousin and I do not know what am I supposed to be protected from," said the bewildered Hishamuddin, who is also Defence Minister.
Journalists at the Sama Sama Hotel media conference burst out laughing over her questions and his answers.
Since the Boeing 777-200 disappeared on March 8, Hishammuddin has eloquently dealt with numerous tough questions from the media in a calm and composed manner.
Many praised the 52-year-old Minister for his handling of the crisis and his ability to diligently answer questions.