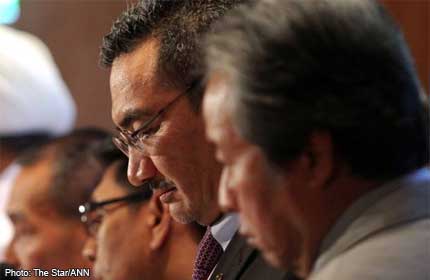 SEPANG - Malaysia is not a terror hub, said acting Transport Minister Datuk Seri Hishamuddin Hussein (pic).
"About Malaysia being a hub of terror, I heard such claims during my five years as Home Minister, but it is very difficult to link it to the events of today.
"I vehemently deny such allegations," said Hishamuddin when responding to questions at a press conference at the Sama-Sama Hotel here on Tuesday.
Allegations of terrorism had emerged ever since the Boeing 777 disappeared on a routine flight from Kuala Lumpur International Airport to Beijing on March 8 carrying 227 passengers and 12 crew.
These allegations first picked up momentum when information emerged that two Iranians had boarded the flight - one using a stolen Austrian passport and another on a stolen Italian passport.
This was followed by an announcement made by Prime Minister Datuk Seri Najib Abdul Razak on Saturday that someone deliberately turned off the aircraft's communications before it went off-course, crossing Peninsula Malaysia before then disappearing from Malaysian primary radars.
When asked about five landing strips found on the flight simulator built by MH 370's pilot, Captain Zaharie Ahmad Shah, Hishamuddin declined to comment on them, saying the issue was being investigated by the police and that it should be the Inspector-General of Police who comments on the issue.
It was reported that a source told Berita Harian that five Indian Ocean airstrips were programmed in Zaharie's Boeing 777 flight simulator, which had been taken from his house last week and reassembled in Bukit Aman.
The five airstrips included the U.S Navy base at Diego Garcia and Male International Airport in the Maldives.