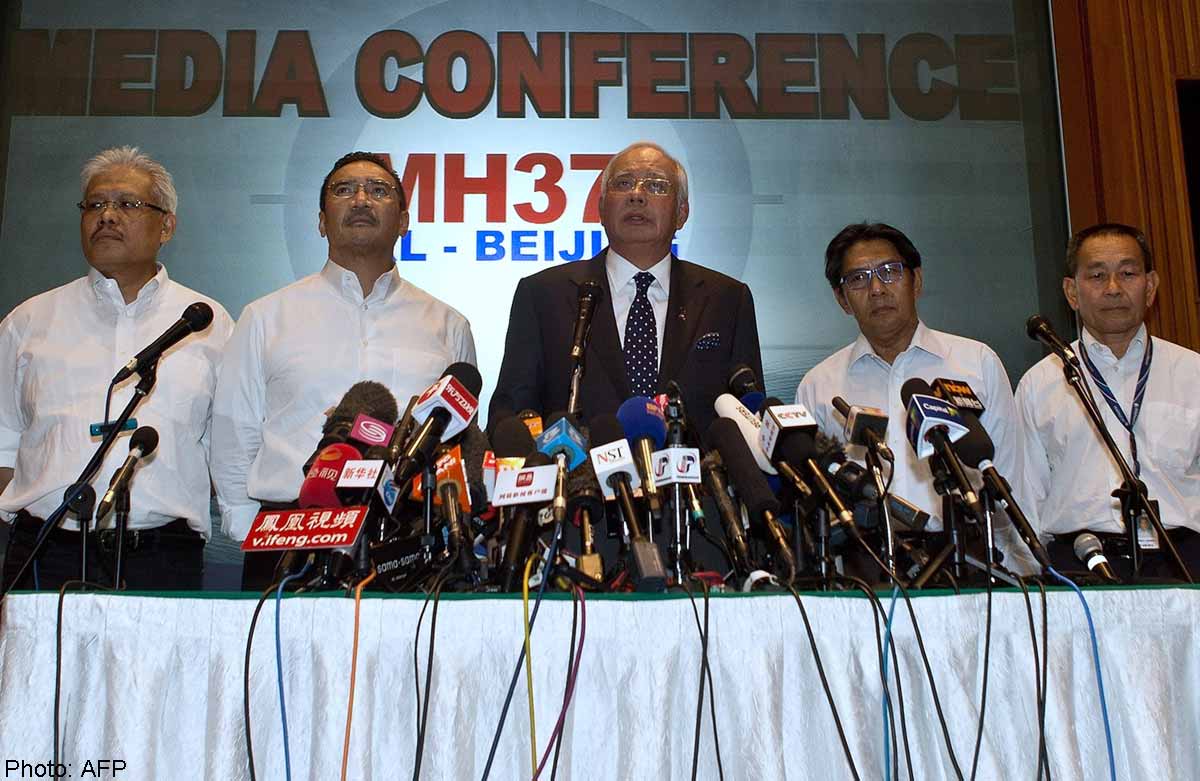 KUALA LUMPUR - As the Malaysia Airlines jetliner remains missing for the second week, Malaysia continues to face international fire for its crisis management, although domestic anger has cooled a little after the extraordinary aspects of the crisis became clear.
Prime Minister Najib Razak made an unexpected live television broadcast on Saturday, a week after the plane disappeared, to announce a dramatic twist in the search for the Beijing-bound MH370.
In his first major statement since the crisis began, he stressed the unprecedented nature of a situation where a plane had its communication systems disabled, and flew in the opposite direction for almost seven hours before vanishing.
It was only via its communications with satellites that investigators were able to detect that the plane's electrical system was functioning over six hours after its last contact with air traffic control.
The search has now moved as far north as Kazakhstan and Turkmenistan, and as far south as the southern Indian Ocean. The search in the South China Sea was called off after a fruitless week.
Datuk Seri Najib stressed that Malaysia overrode national security concerns to share military radar data with foreign experts, in a bid to deflect criticisms that it was hiding information.
His calm and sober explanation moderated some of the domestic criticism, but only fuelled anger in China.
The official Chinese Xinhua news agency yesterday said in an editorial that it was "undeniable that the disclosure of such vital information is painfully belated", and that Malaysian officials were guilty of an "intolerable" dereliction of duty.
Two-thirds of the passengers on board the missing MH370 flight to Beijing are Chinese nationals. Similar outrage was noted on Weibo - China's version of Twitter.
"China, in particularly, still clearly thinks that Malaysia is hiding something, or is plain incompetent," said political analyst Oh Ei Sun, a senior fellow at Singapore's S. Rajaratnam School of International Studies.
He added that while it was not unusual for a top Malaysian leader to make major announcements, Mr Najib's appearance could have been in response to criticism, especially from China, that the investigations were being left in the hands of a lesser-ranked minister.
It may have been timed to give a sense of reassurance that decisions were not taken lightly.
But some aviation analysts remained sceptical that Malaysia had done all it could.
Mr Ajaj Sahni, executive director of India's Institute for Conflict Management in New Delhi, was quoted by Agence France-Presse as saying it was an astonishing failure of security that the plane could have deviated from its flight path and flown back over Malaysia without being flagged by the military.
Malaysia had said its military radar had detected the aircraft, but did not intercept it as it was not deemed hostile. Defence Minister Hishammuddin Hussein yesterday said this apparent lapse would be investigated after the search for the missing jetliner was over.
Malaysians had initially flooded social media with harsh criticism after the American press appeared to have better information than that being disclosed at the daily press conferences.
But this has noticeably scaled back as the information flow became better managed and messages clearer, even as the mystery deepened.
Still, there remains strong criticism over the fact that it took one week to confirm the plane had flown west instead of east.
Dr Ooi Kee Beng, deputy director of Singapore-based Institute of Southeast Asian Studies, said Mr Najib's language was much clearer than the earlier conflicting comments from the other ministers and officials.
"He stated what was known and what wasn't. It was much better than statements like 'it is only confusion if you want it to be seen as confusion'," he said, referring to Transport Minister Hishammuddin Hussein's response to criticism last week.
He maintained that criticism against Malaysia for a lack of clarity, transparency and coordination were justified. But, he added: "To be fair, it is a very strange situation. The plane is just gone."
carolynh@sph.com.sg
Get a copy of The Straits Times or go to straitstimes.com for more stories.