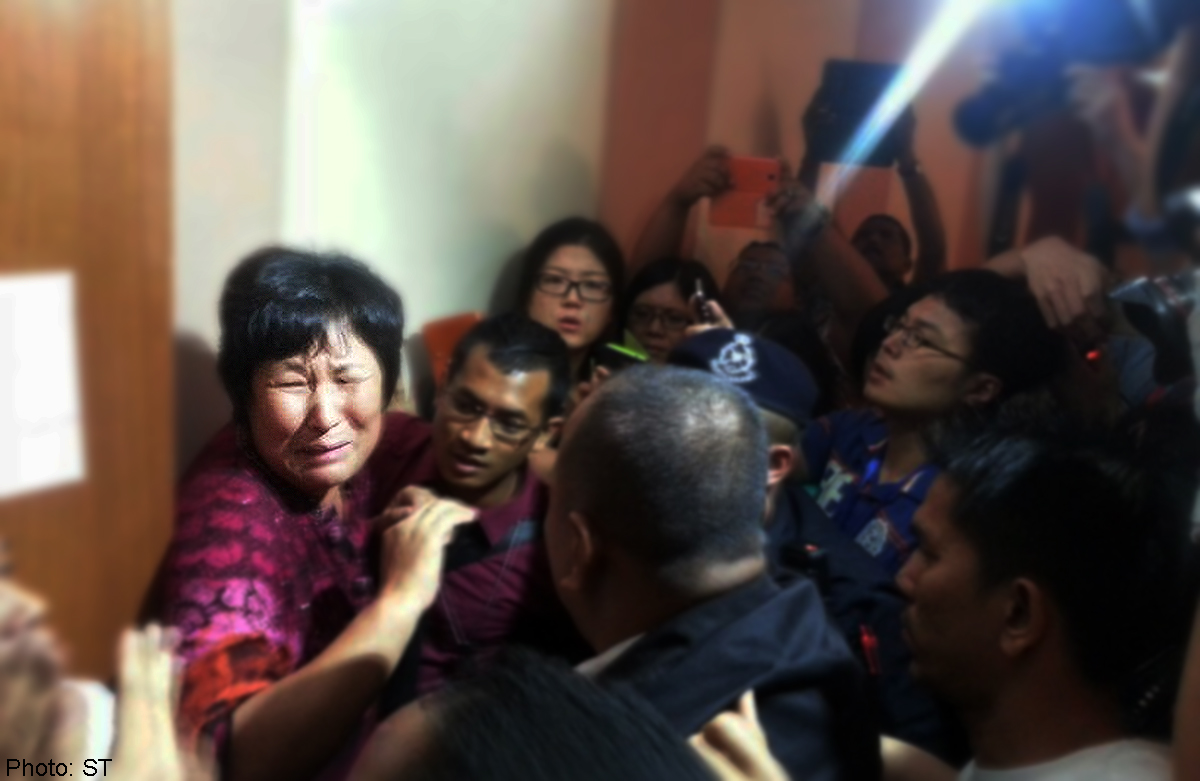 IN SEPANG - Running out of patience with the Malaysian authorities, a group of Chinese nationals barged into a hotel conference room where the daily press briefings are held to demand answers on the whereabouts of family members who have been missing since March 8.
The group of six turned up at the Sama-Sama Hotel, next to Kuala Lumpur International Airport (KLIA), about 45 minutes before the 5.30pm press conference began.
"We can't wait, we just can't wait any more," one of them, a woman identified only as Madam Xu, wailed as journalists, photographers and camera crew crowded around her. "We are told that they are searching, we are told the same thing every day.
"They have searched Chinese territorial waters, they have even gone to the Andaman Sea, but where has the plane gone?"
The group, who are among the 85 Chinese flown here by Malaysia Airlines (MAS), had a banner with Chinese words that read: "We protest against the Malaysian government for hiding the truth, delaying the rescue! They should allow the return of our loved ones onboard MH370 without condition!"
Yesterday's dramatic protest added to the growing pressure on the Malaysian government and MAS officials to furnish some answers on how the Boeing 777- 200ER plane could have vanished with 239 people on board. International media reports, especially those in China, have been scathing, and urged Malaysia to be more transparent about its investigations and search operations.
Before the press briefing started, Madam Xu was taken together with the other members of her group into a smaller room next to the briefing room. Half an hour later, they were escorted under heavy guard out of the room, sparking another media scrum.
There were 153 Chinese nationals on MH370. Dozens of family members and relatives of the Chinese passengers have been in Kuala Lumpur since March 12, waiting for news of their fate.
Yesterday, Acting Transport Minister and Defence Minister Hishammuddin Hussein told the press briefing that a high-level team is heading to Beijing to brief and update the passengers' next of kin on the latest situation, and on search and rescue plans.
The team includes representatives from the Malaysian Prime Minister's Office, the Ministry of Foreign Affairs, the Royal Malaysian Air Force, the Department of Civil Aviation and MAS.
"Malaysia is doing everything in its power to find MH370 and hopefully bring some degree of closure for those whose family members are missing," he said.
A massive search involving 26 countries and coordinated by Malaysia is still scouring waters in two main areas: A northern corridor stretching approximately from the border of Kazakhstan and Turkmenistan to northern Thailand, and a southern corridor from Indonesia to the southern Indian Ocean.
In Beijing, many of the 465 relatives who have gathered at the Metropark Lido Hotel are furious at the lack of access to Malaysian officials. They want the daily briefings to be conducted by government officials, who they presume have more information, instead of MAS commercial director Hugh Dunleavy. On Tuesday, some went on a hunger strike.
lestkong@sph.com.sg
joycel@sph.com.sg
Additional reporting by Rachel Chang in Beijing
Get a copy of The Straits Times or go to straitstimes.com for more stories.