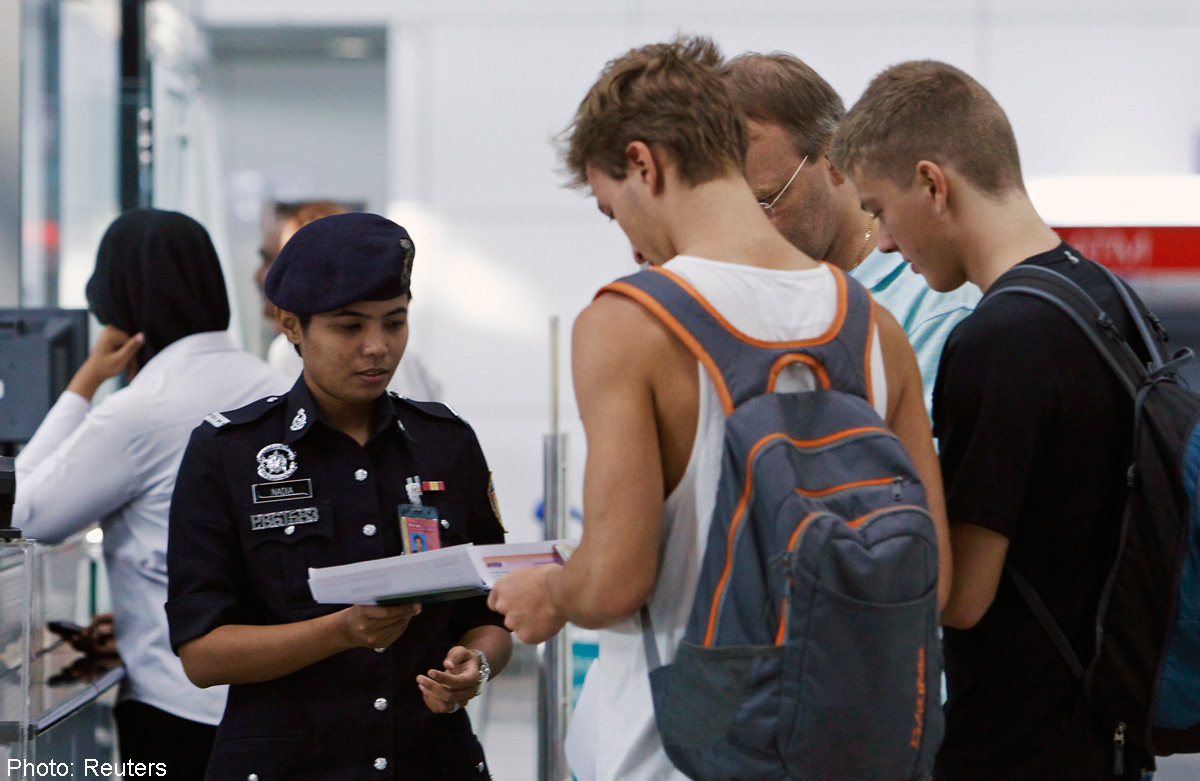 BANGKOK - The revelation that at least two passengers on Malaysia Airlines (MAS) Flight MH370 that vanished over the sea off Vietnam were carrying stolen passports has raised red flags among law enforcers and security analysts.
Terrorists often use stolen passports to avoid detection, say analysts. But people smugglers, illegal immigrants and drug smugglers also regularly use stolen passports, leading Mr Ronald Noble, secretary-general of Interpol, to once call passport fraud the "biggest threat facing the world".
The passports used by the impostors had both been stolen in Phuket over the past two years.
The two men whose passports were stolen - Austrian Christian Kozel and Italian Luigi Maraldi - were not on the MAS flight, their governments said.
The two men flying on their passports were reported by British newspaper Telegraph to have bought consecutively numbered tickets on MH370, and to have been booked to fly onwards to Amsterdam from Beijing.
This incident has put Thailand's huge passport fraud industry under the spotlight again. A Thai security source, asking not to be named, said security agencies had been asked to investigate the paper trail for the two passport thefts. "They are working on it now," he said.
Police in Phuket tracked down Mr Maraldi, 37, who had called his family to reassure them after seeing his name on the passenger list, on Sunday. He told reporters he had left his passport at a motorcycle rental shop, and returned to find it gone, on July 22 last year. He flew back to Italy on a temporary travel document. He returned this month as a tourist.
The Thai official admitted: "Thailand has been used for some time as a hub for forgeries. It is a big concern. Nowadays, the passports are not entirely fake; they use real passports with some modifications."
As for the MH370 case, that two passengers had stolen passports was "far too much of a coincidence", said Mr Anthony Davis, an analyst with IHS Jane's Intelligence Review. But if it was indeed a terrorist attack, it raised the question of whose interest it would serve.
"It would appear to be more likely that, given that this was a code-sharing flight with China Southern Airlines with a largely Chinese passenger list and heading to Beijing, China was the likely target," he added.
"One cannot rule out the possibility of an attack involving Xinjiang separatists", given that this incident came shortly after the attack in Kunming on March 1 that killed 29 people which the Chinese attributed to Xinjiang militants. It also happened during the ongoing annual meeting of the Chinese national Parliament.
Mr Justin Gosling, a Bangkok-based security consultant and former Interpol officer, said Interpol maintains a global database of stolen and lost travel documents. The question was whether the two passports were on it, and if so, why this was not noticed by immigration or the airline at Kuala Lumpur International Airport.
Interpol confirmed on Sunday that two passports, Austrian and Italian, on its database were used by passengers on MH370.
Mr Gosling said: "It is too early to speculate that there was a terrorist attack. No group has claimed responsibility."
But what is clear is that terrorists have obtained fake passports from Thailand. Indonesia-born Riduan Isamuddin alias Hambali, the operations chief of Jemaah Islamiah, was arrested in the Thai city of Ayutthaya in 2003 with a Spanish passport. Reports said Thai police later arrested a Bangladeshi who supplied the passport.
The underground business thrives on a laissez-faire culture, corruptible police and - with over 20 million tourists going to Thailand each year - a steady source of lost, stolen or sold passports.
In May 2008, Thai police seized nearly 21,000 fake passports and arrested 12 people. Two years later, Pakistani national Muhammad Ather Butt, who ran a passport-forging racket linked to terrorist groups, including Pakistan-based Lashkar-e-Taiba, was arrested by Thai police.
nirmal@sph.com.sg

Get a copy of The Straits Times or go to straitstimes.com for more stories.